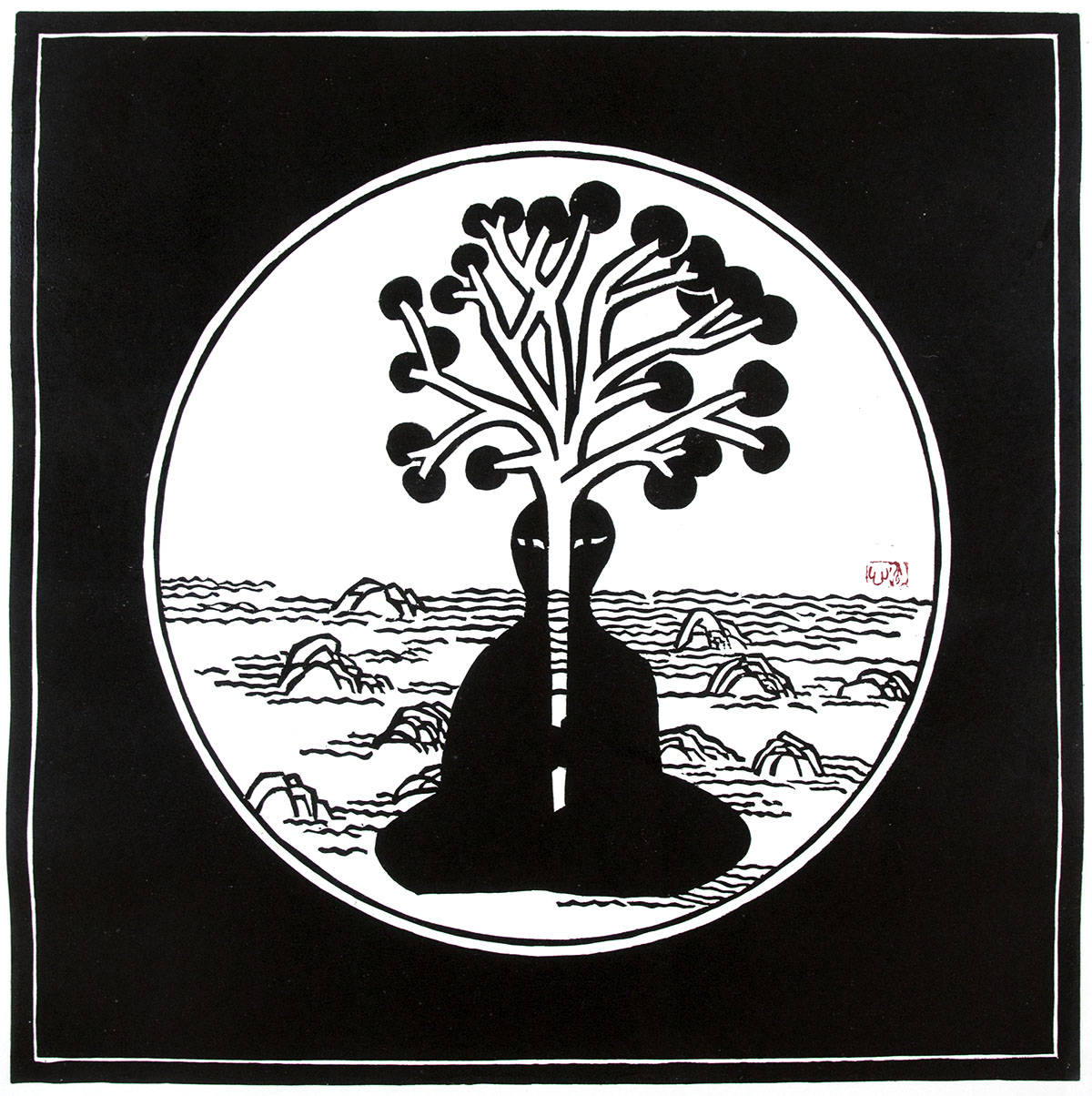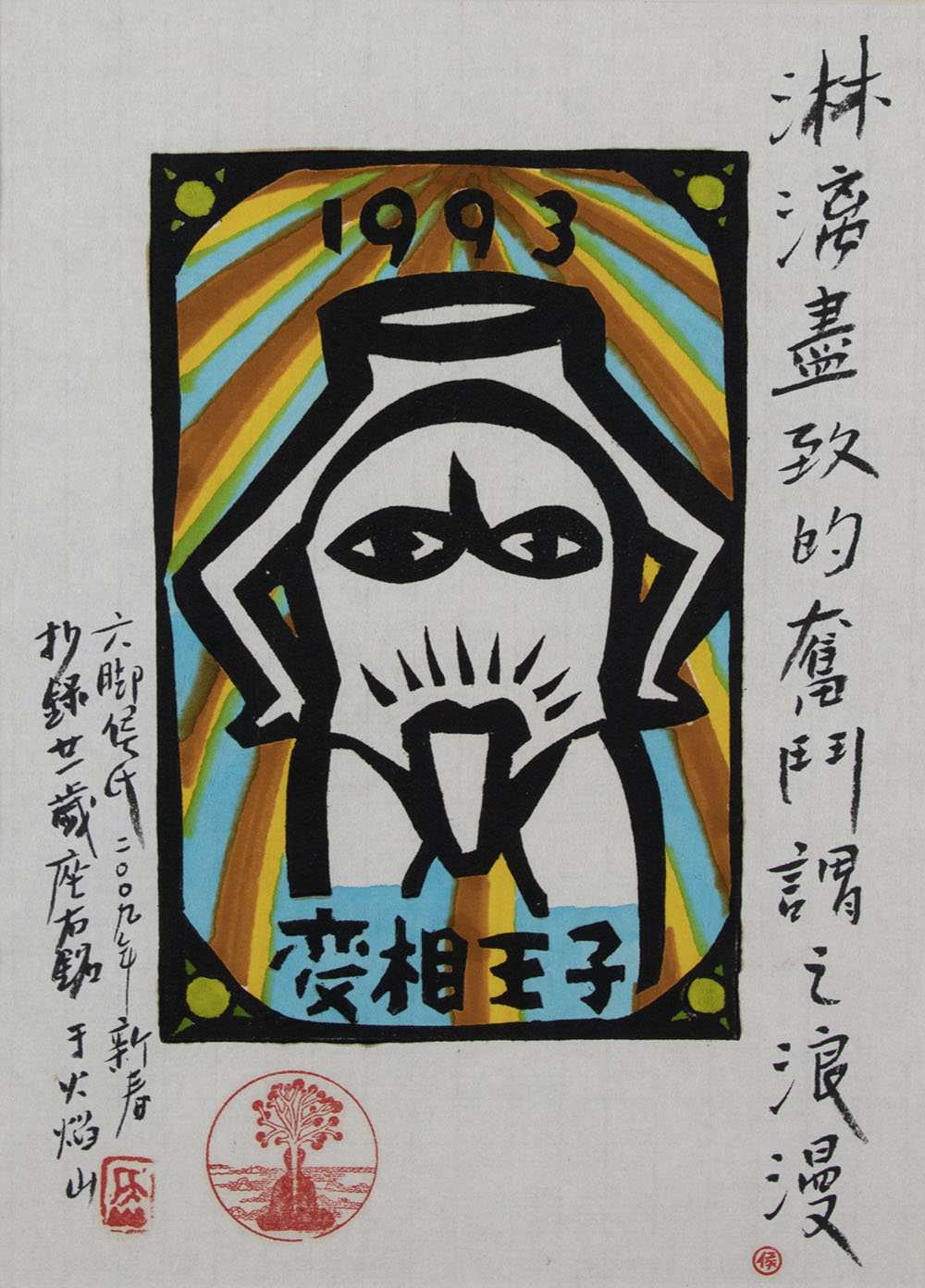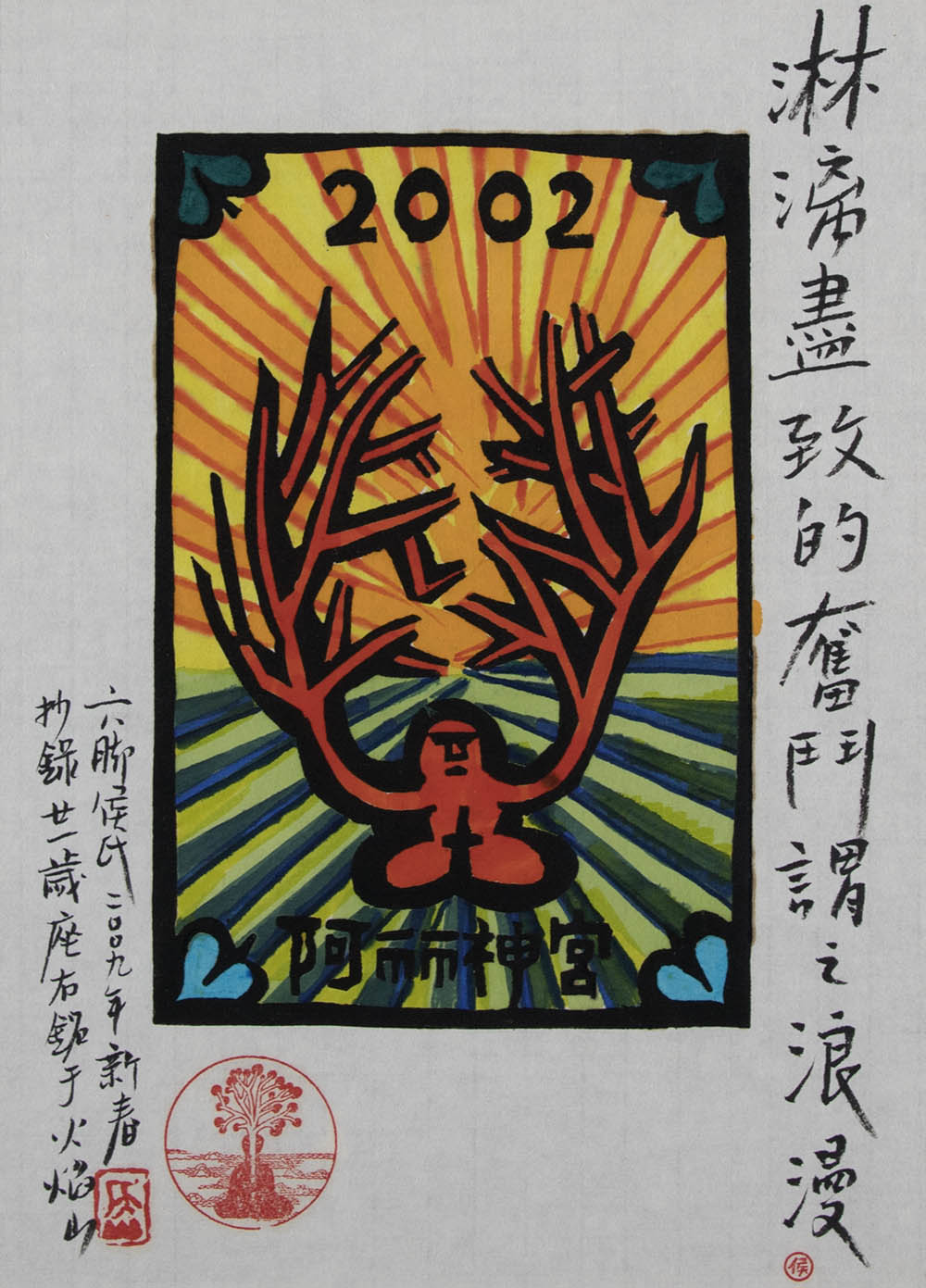 Hou Chun-ming, Vigilance, 2008
Hou Chun-ming, 1993 Prince of Disguise, 2009
Hou Chun-ming, 2002 Ali Palace, 2009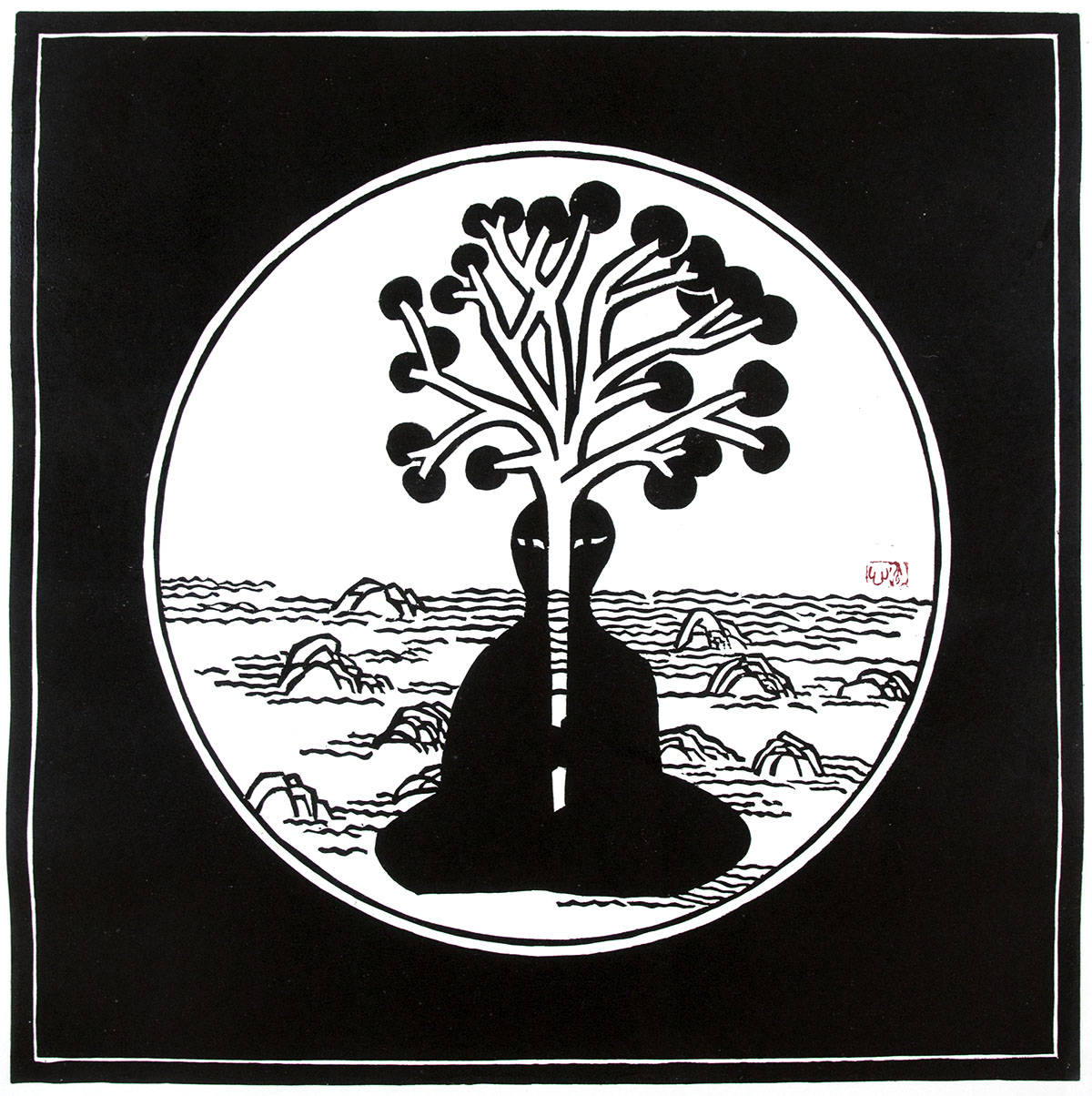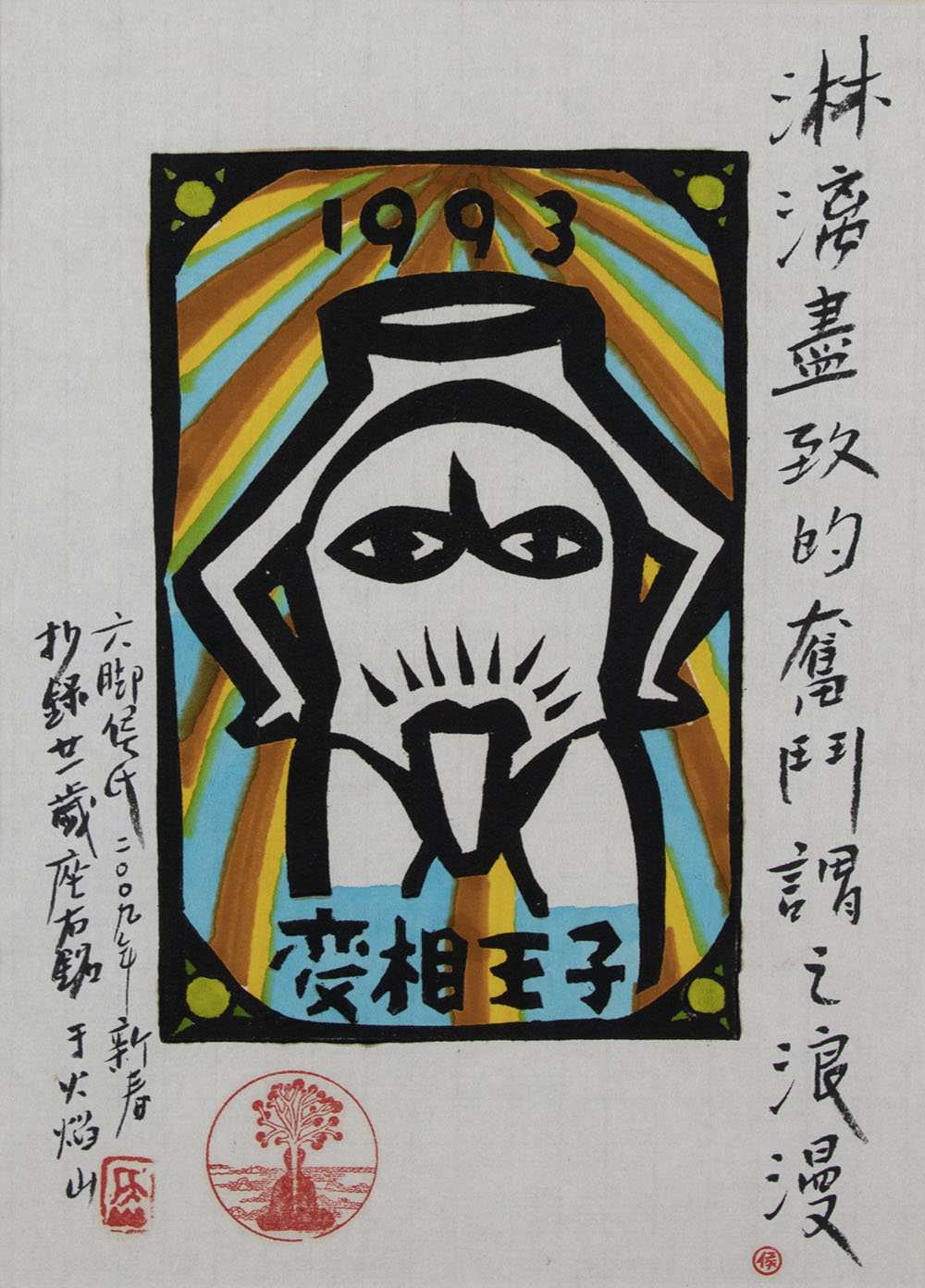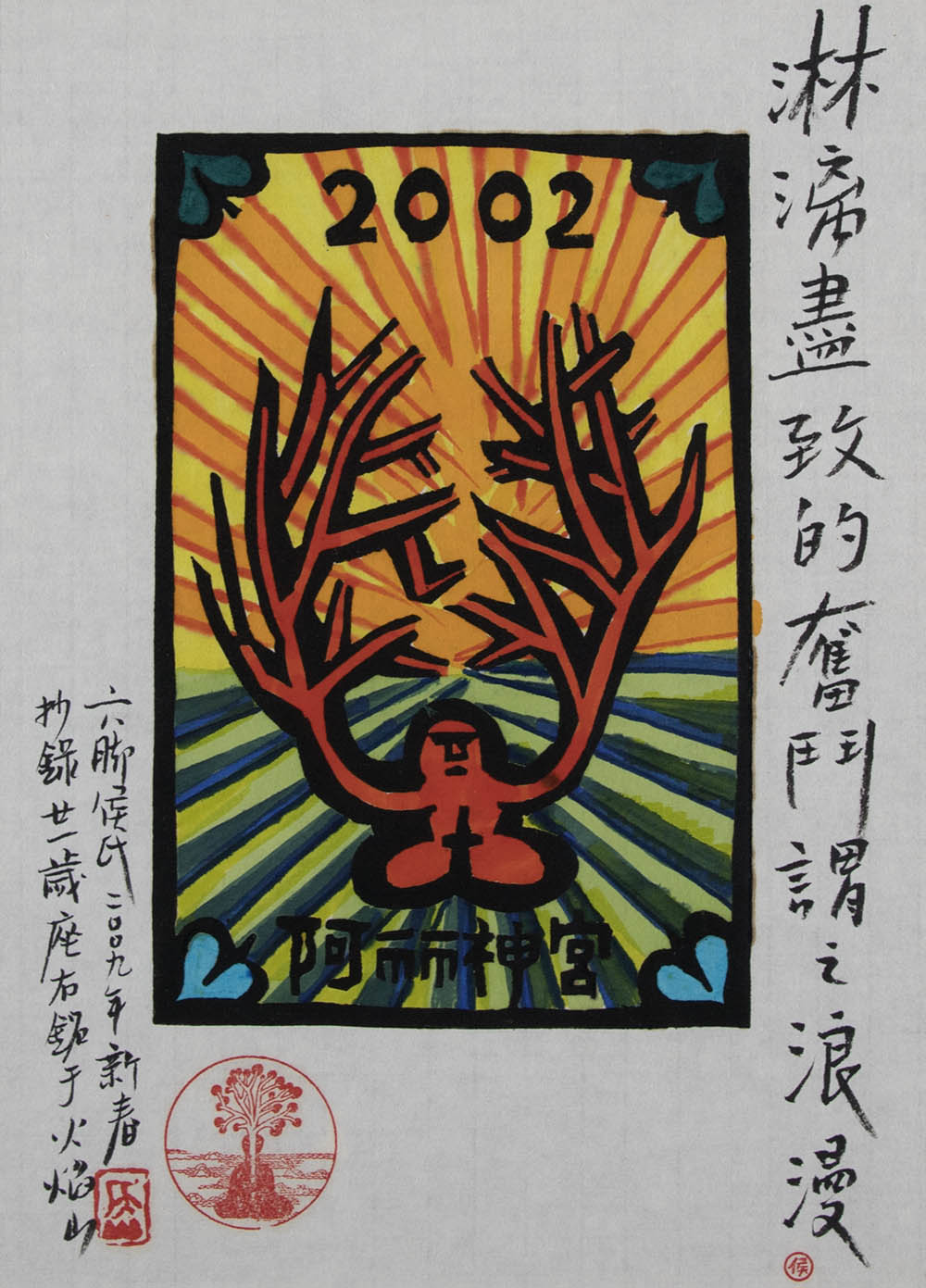 ---
---
Journal by Pillow
---
---
---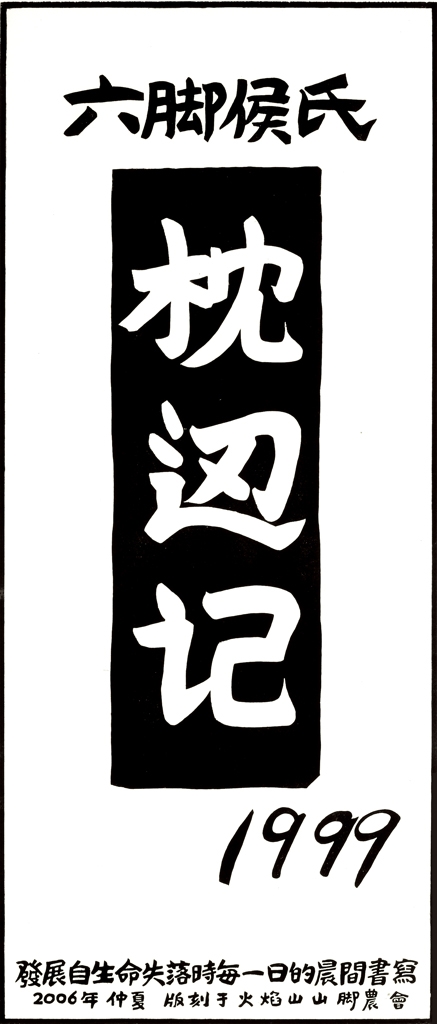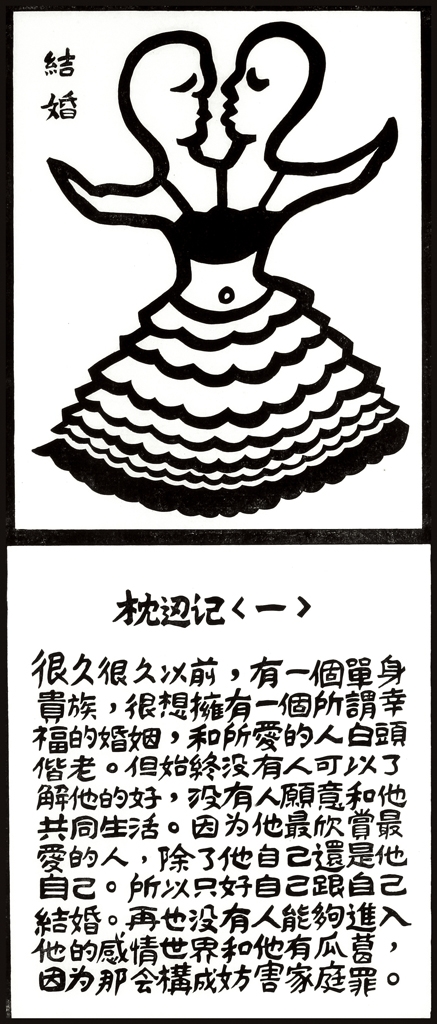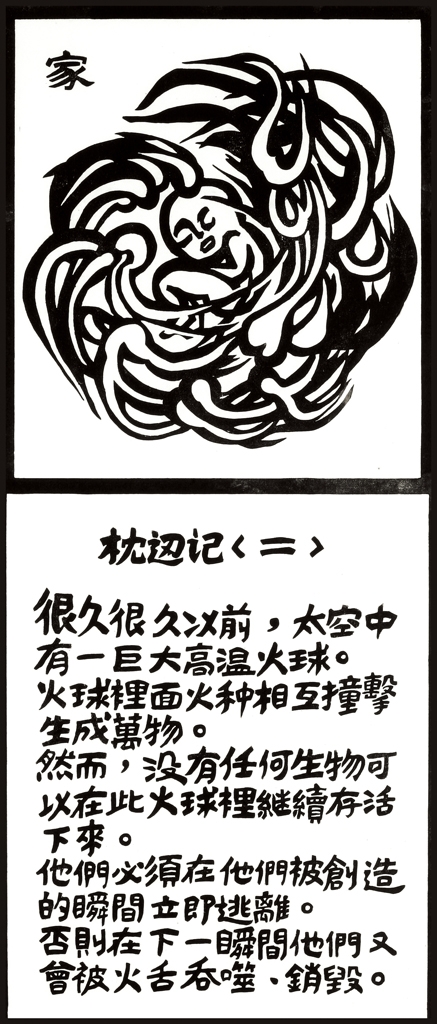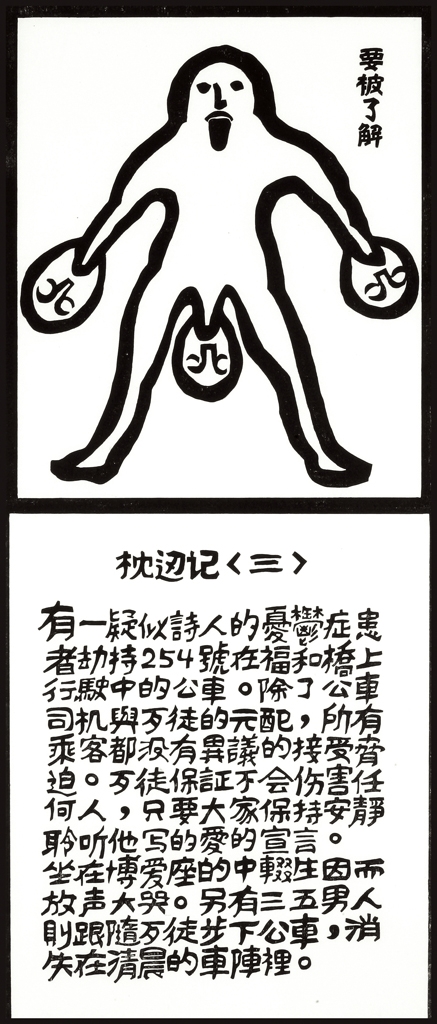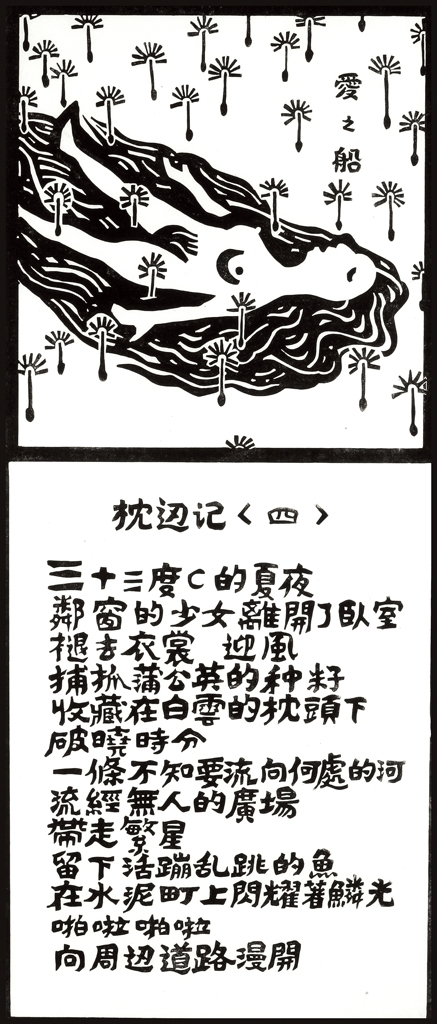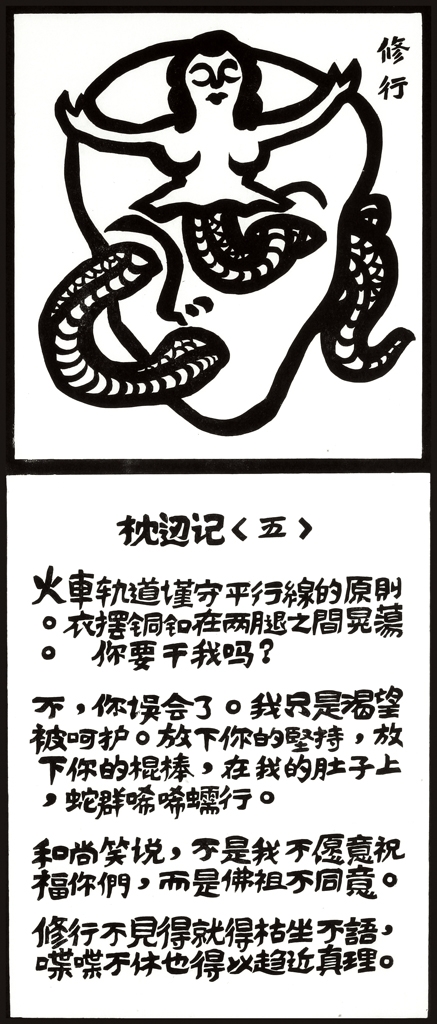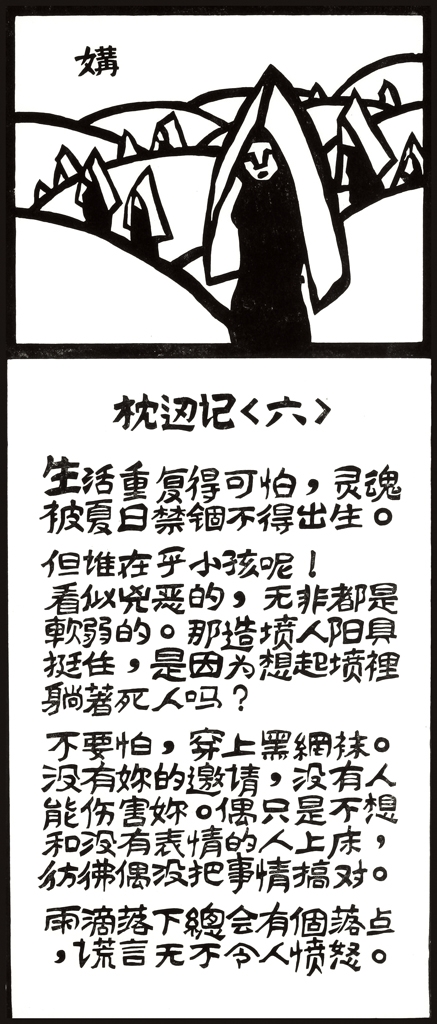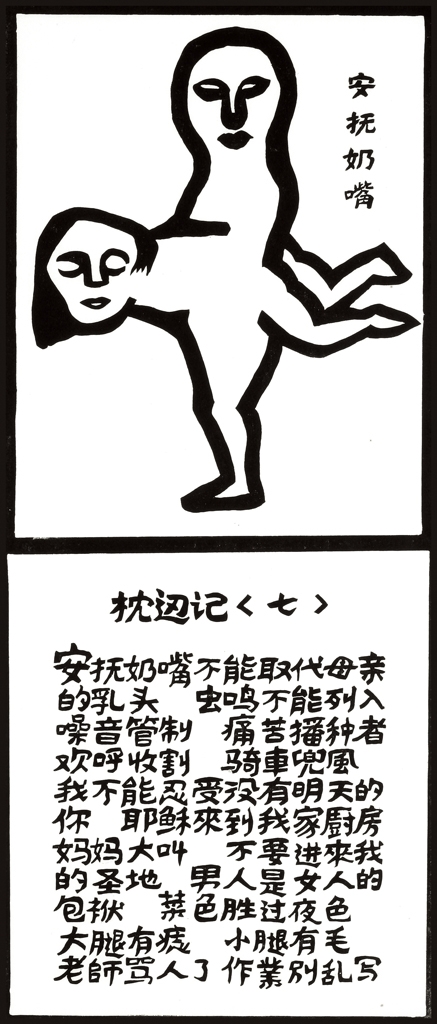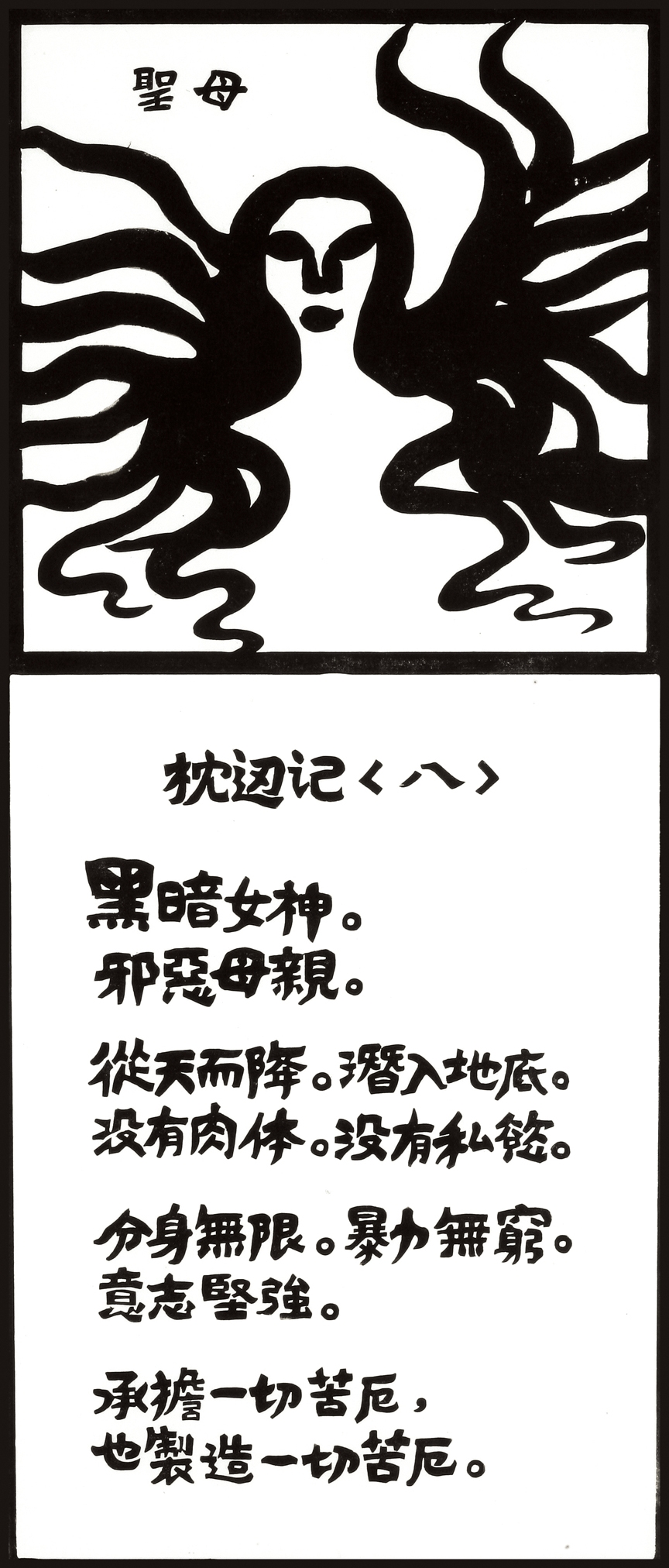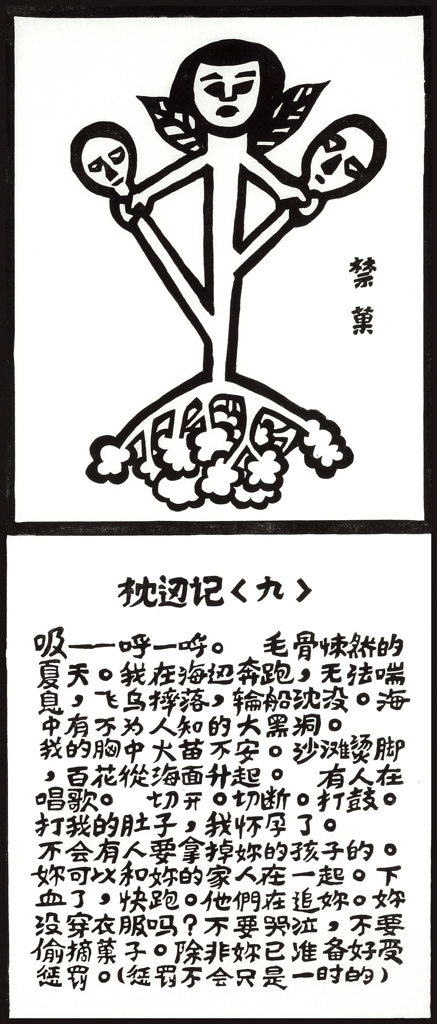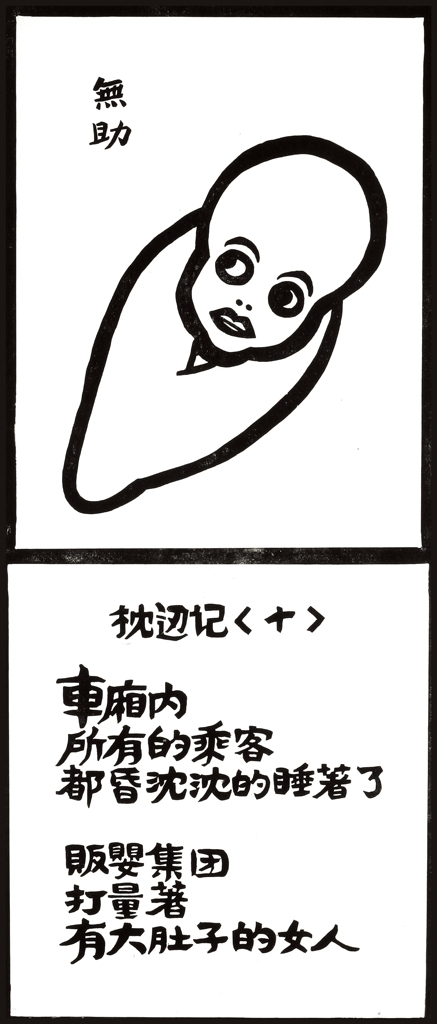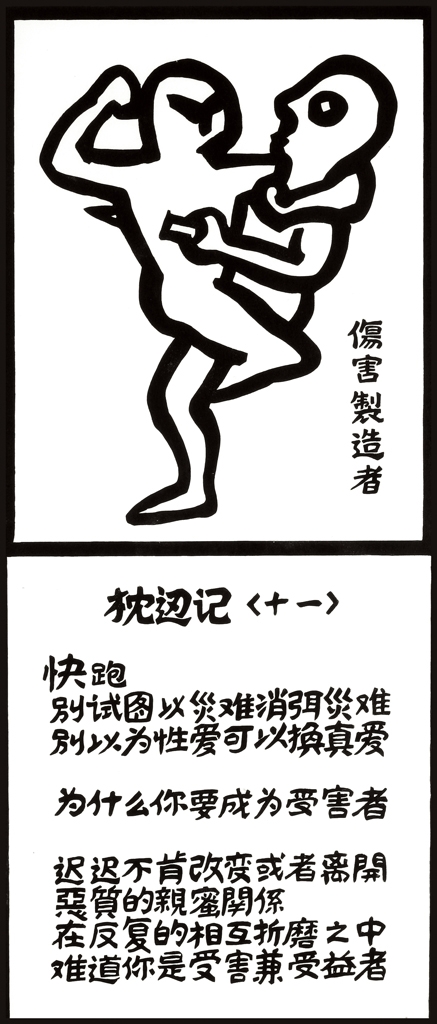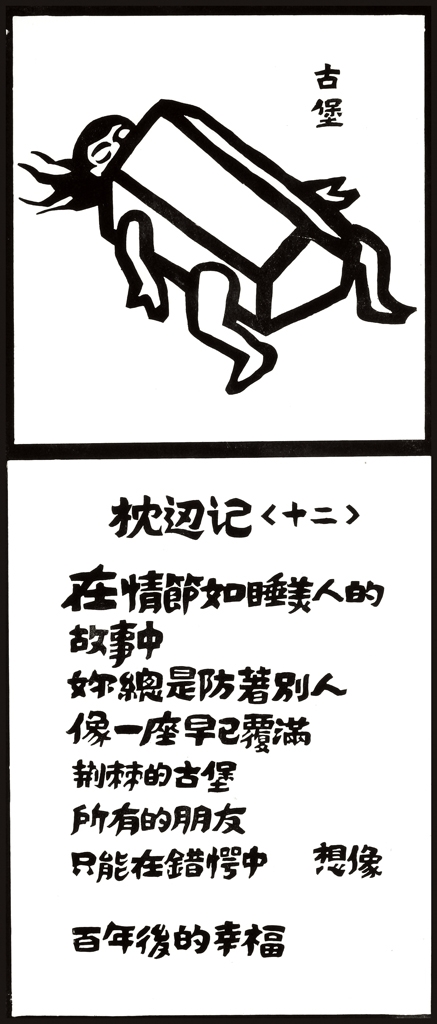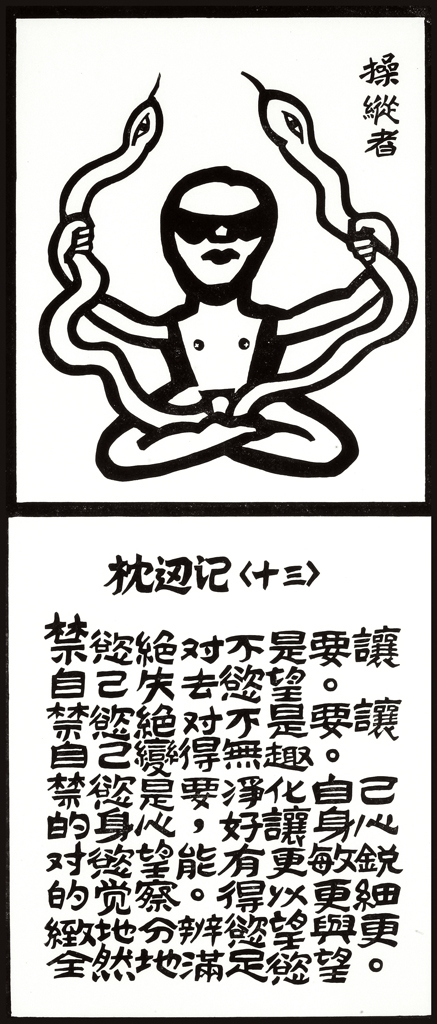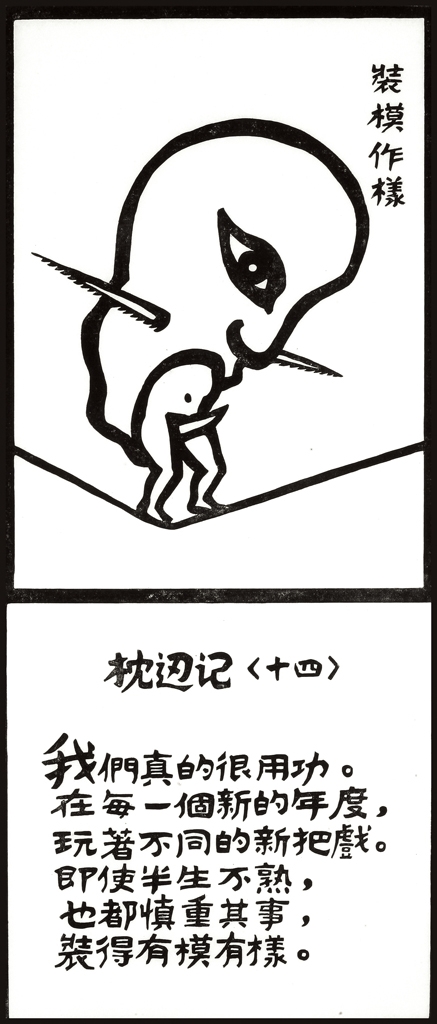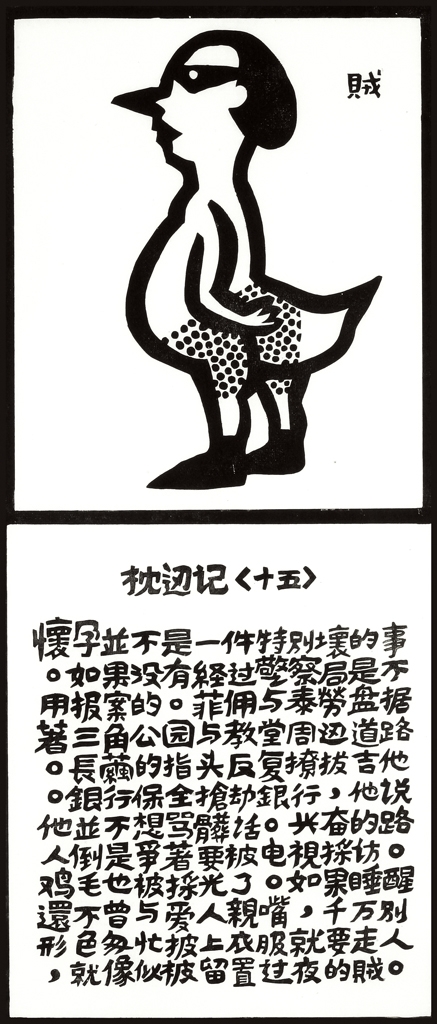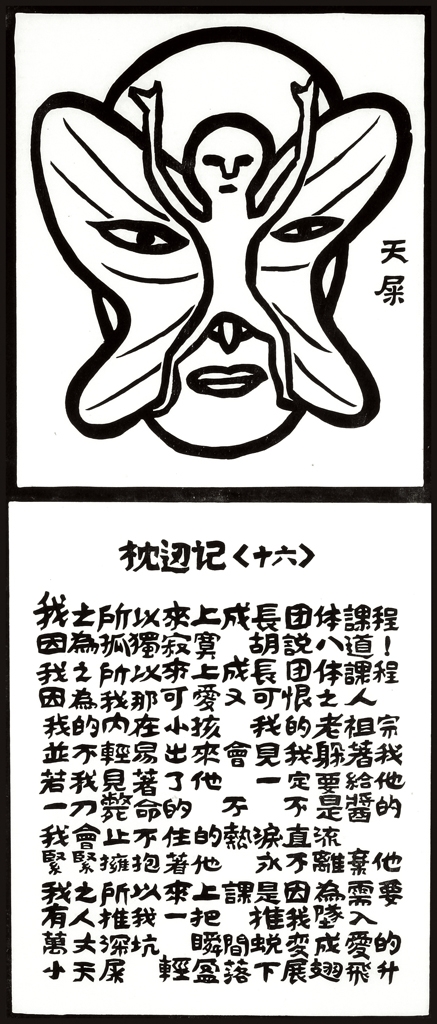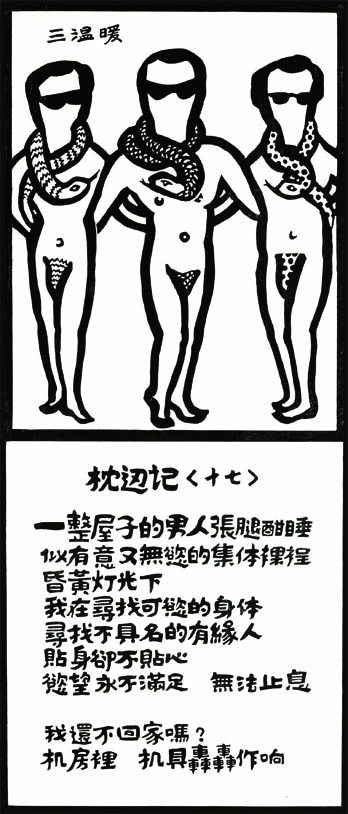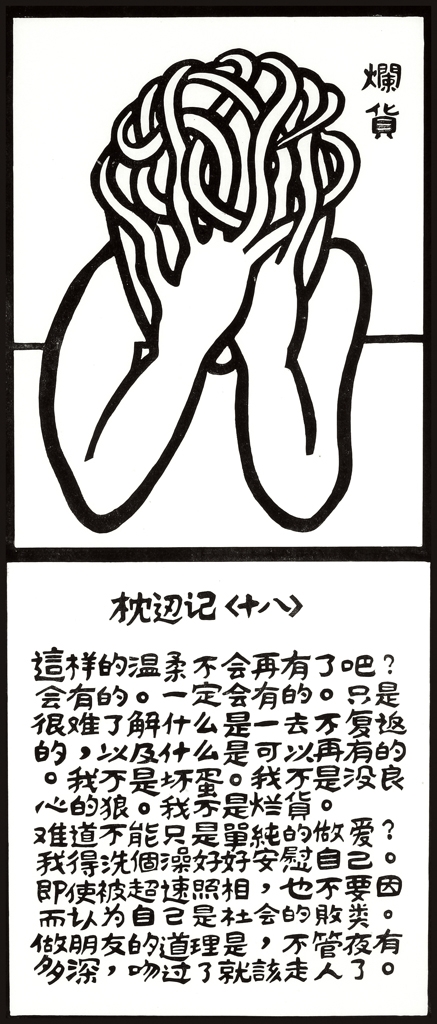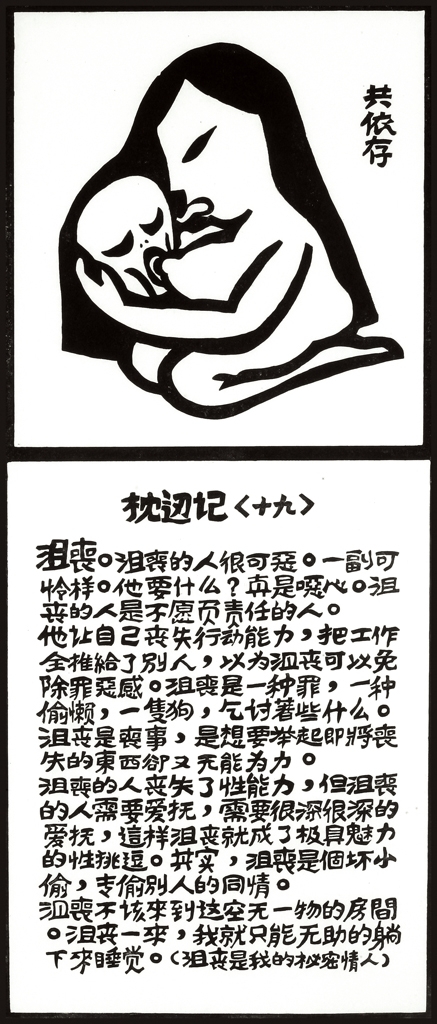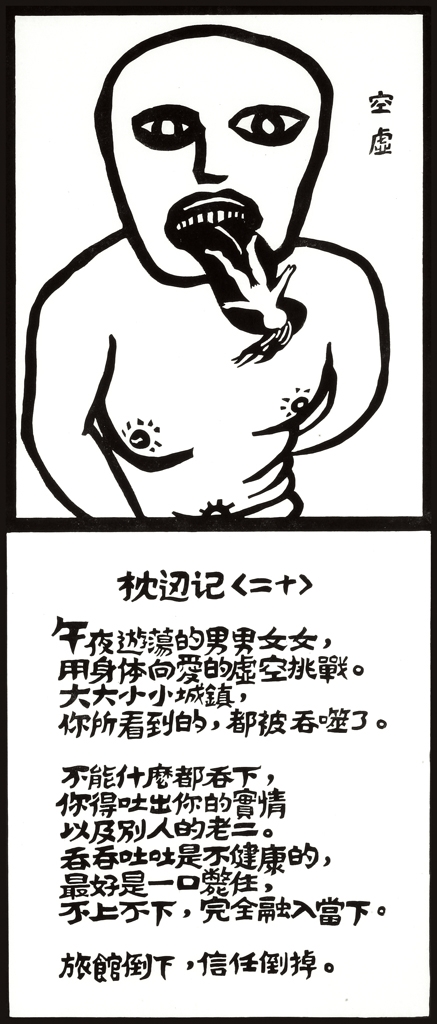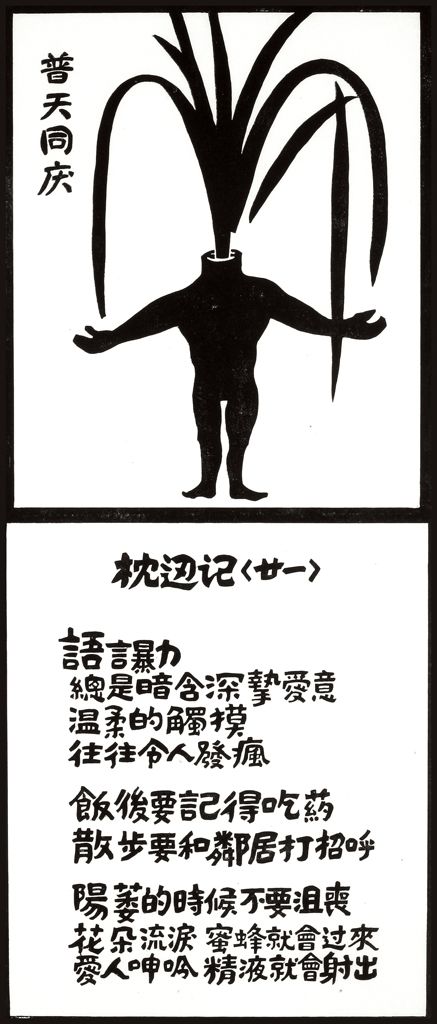 Hou Chun-ming, Journal by Pillow (Cover), 2006
Hou Chun-ming, Journal by Pillow 1 - Marriage, 2006
Hou Chun-ming, Journal by Pillow 2 - Family, 2006
Hou Chun-ming, Journal by Pillow 3 - The Need for Acceptance, 2006
Hou Chun-ming, Journal by Pillow 4 - Boat of Love, 2006
Hou Chun-ming, Journal by Pillow 5 - Cultivation, 2006
Hou Chun-ming, Journal by Pillow 6 - Copulation, 2006
Hou Chun-ming, Journal by Pillow 7 - Pacifier, 2006
Hou Chun-ming, Journal by Pillow 8 - Madonna, 2006
Hou Chun-ming, Journal by Pillow 9 - Forbidden Fruit, 2006
Hou Chun-ming, Journal by Pillow 10 - Helpless, 2006
Hou Chun-ming, Journal by Pillow 11 - Maker of Hurt, 2006
Hou Chun-ming, Journal by Pillow 12 - Fortress, 2006
Hou Chun-ming, Journal by Pillow 13 - Manipulator, 2006
Hou Chun-ming, Journal by Pillow 14 - Pretension, 2006
Hou Chun-ming, Journal by Pillow 15 - Treacherous, 2006
Hou Chun-ming, Journal by Pillow 16 - Angel, 2006
Hou Chun-ming, Journal by Pillow 17 - Sauna, 2006
Hou Chun-ming, Journal by Pillow 18 - Trash, 2006
Hou Chun-ming, Journal by Pillow 19 - Interdependent, 2006
Hou Chun-ming, Journal by Pillow 20 - Emptiness, 2006
Hou Chun-ming, Journal by Pillow 21 - World Peace, 2006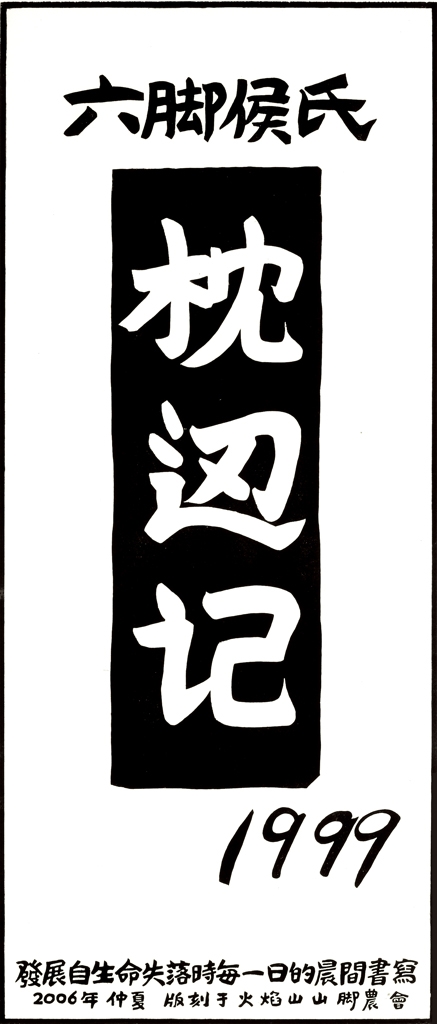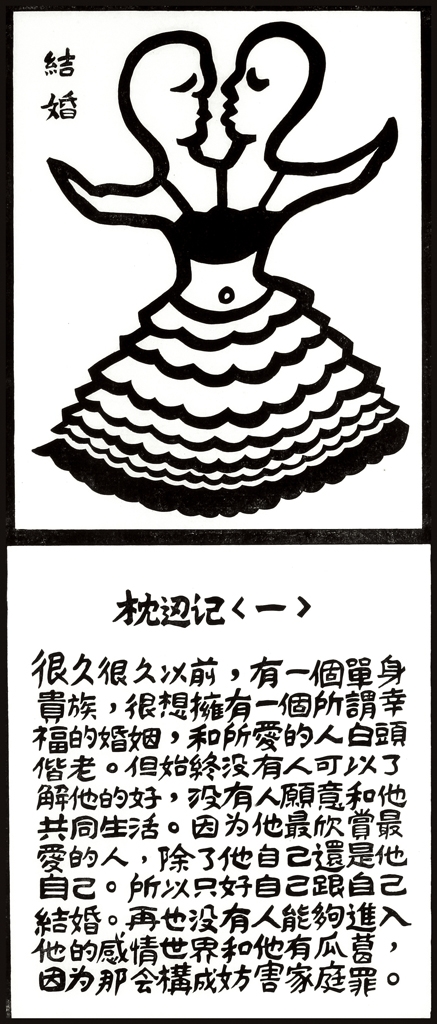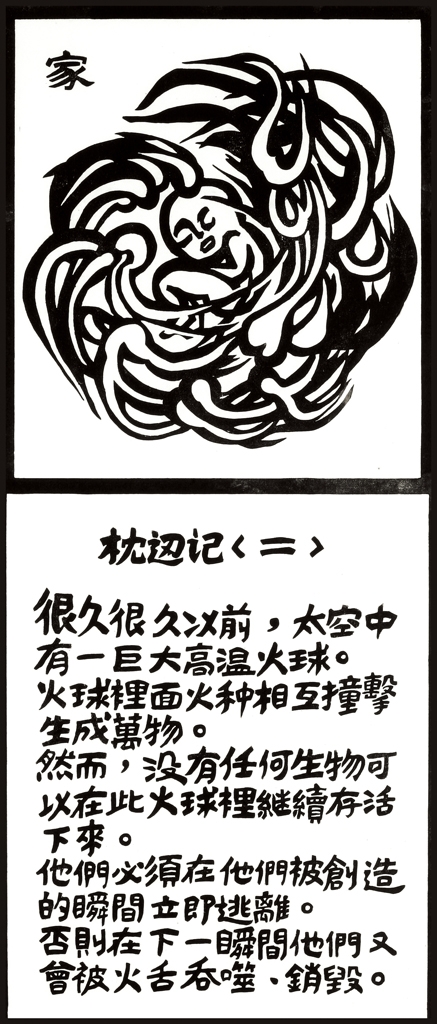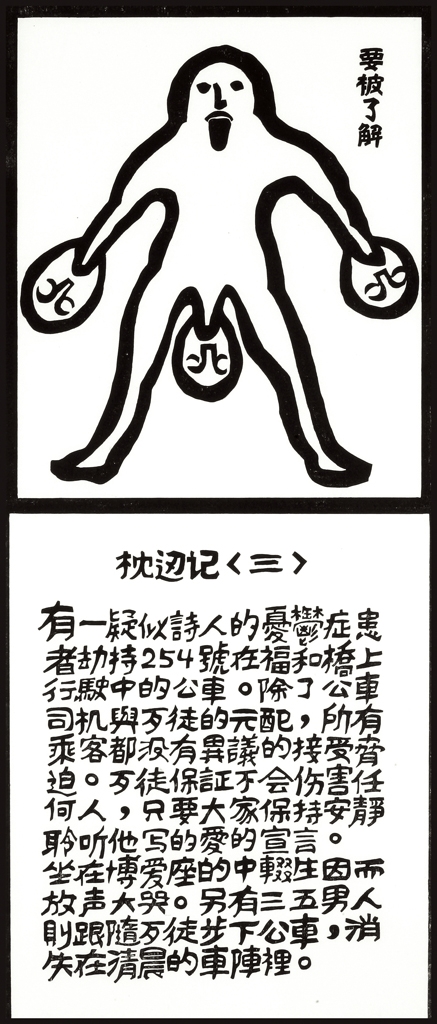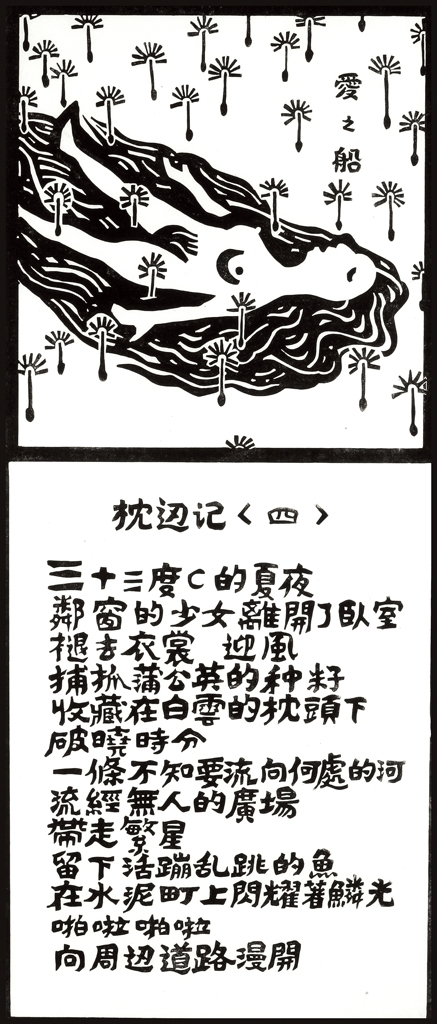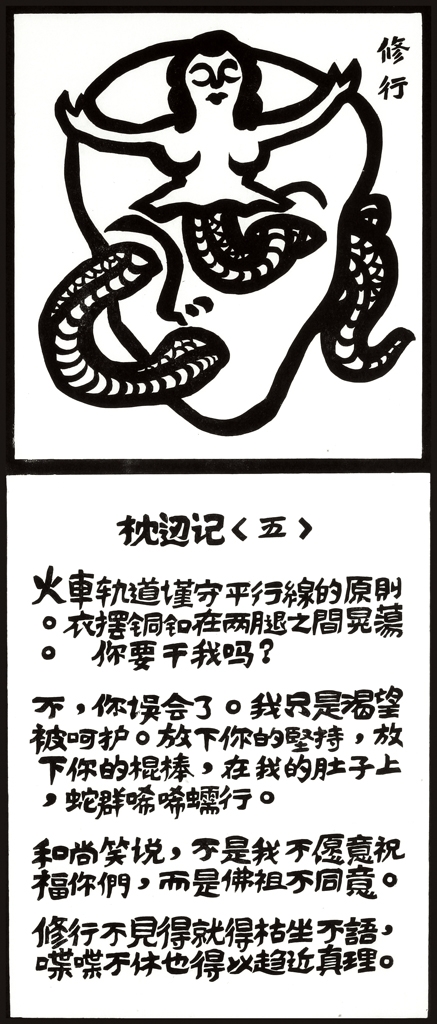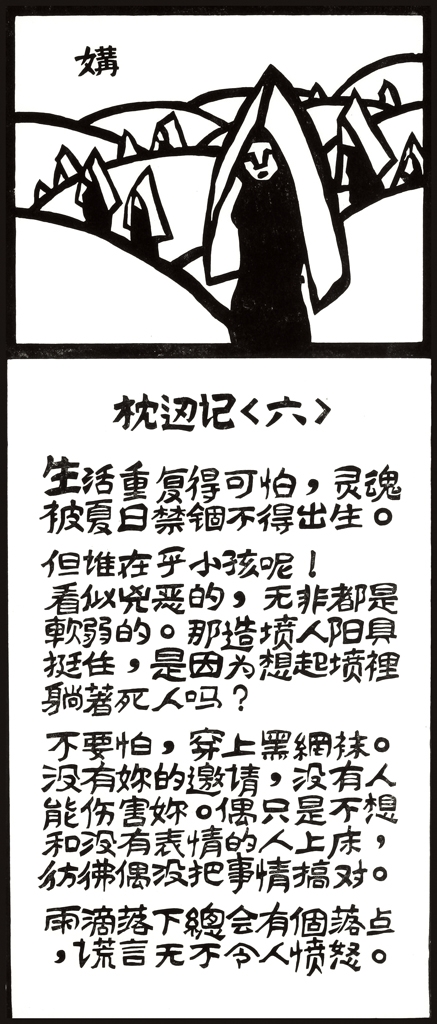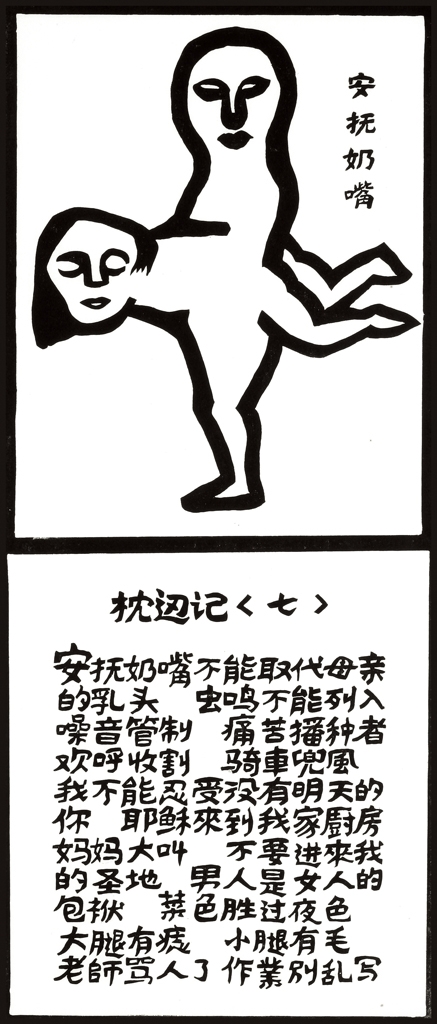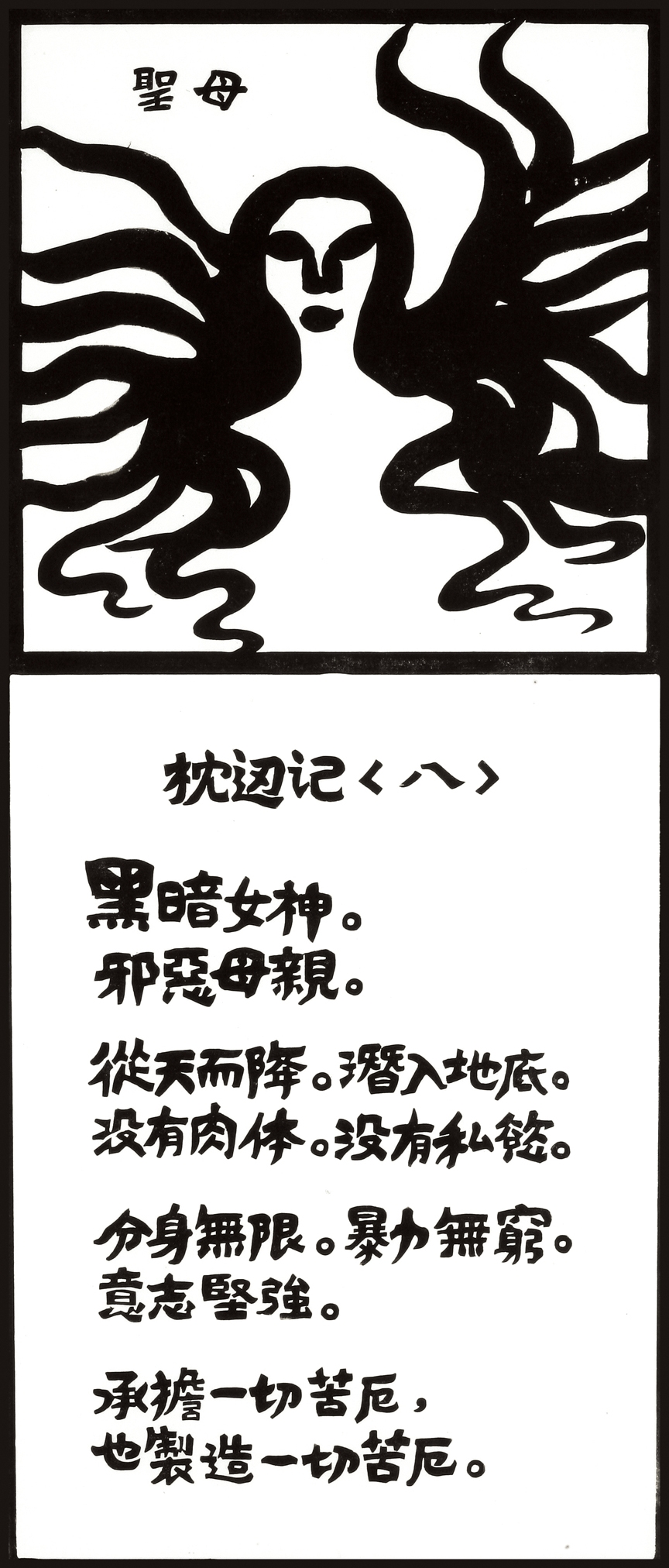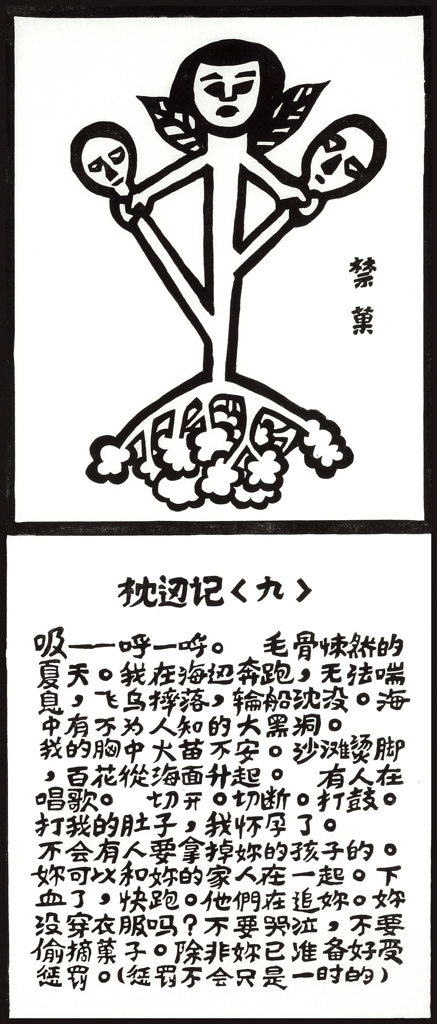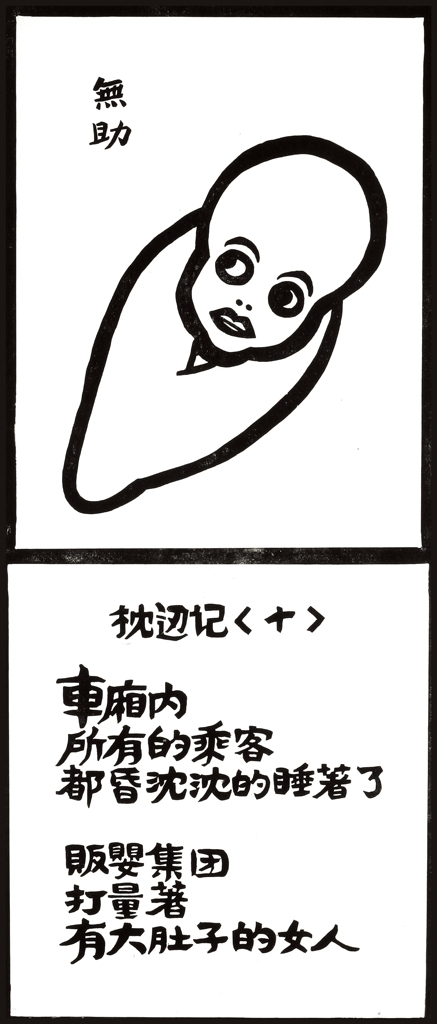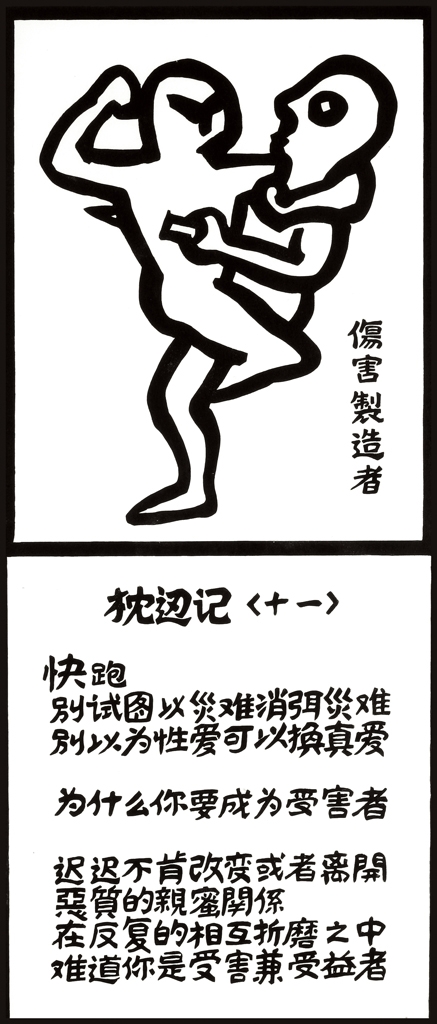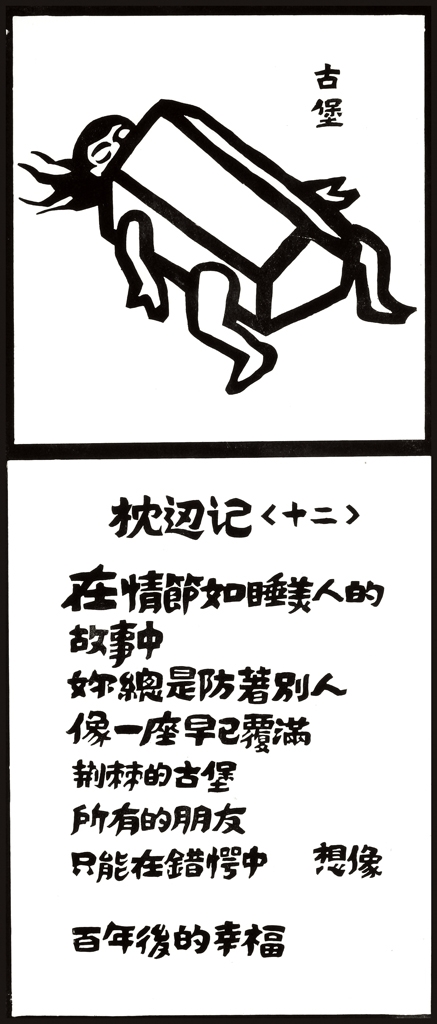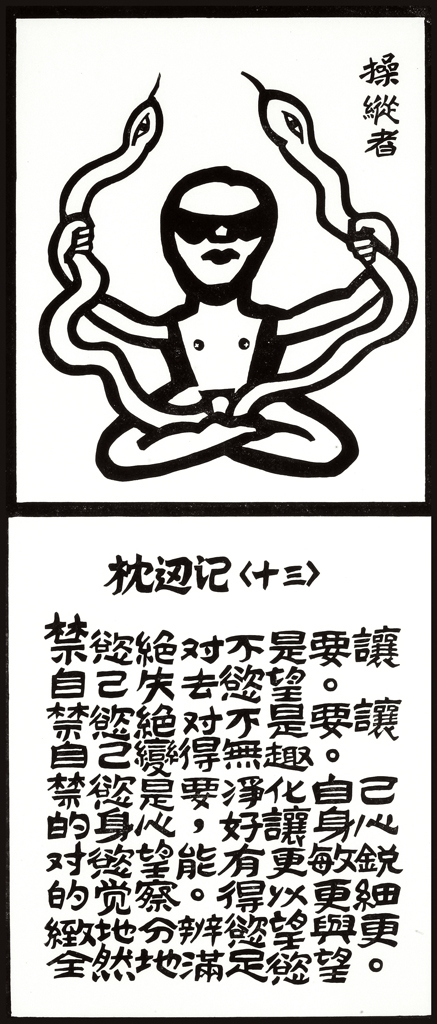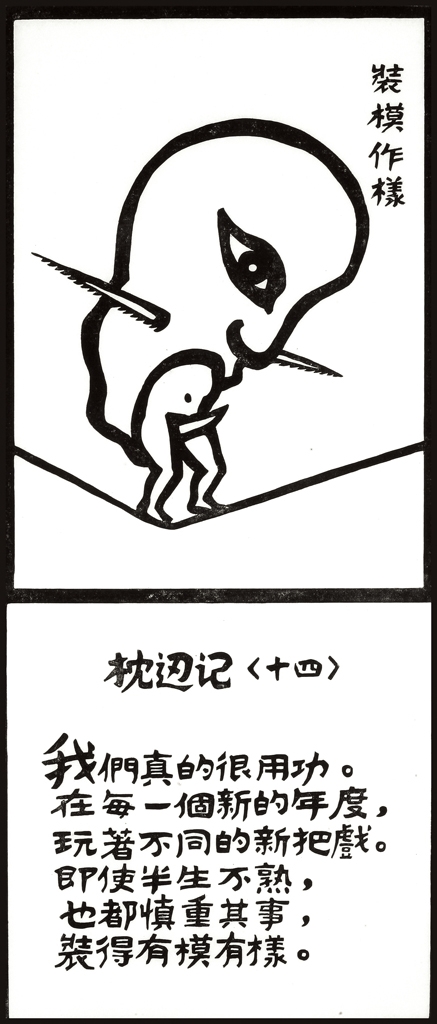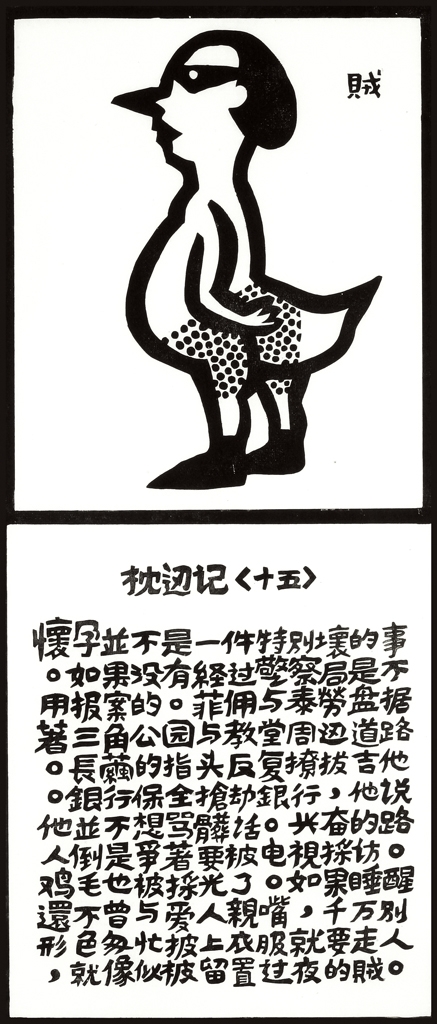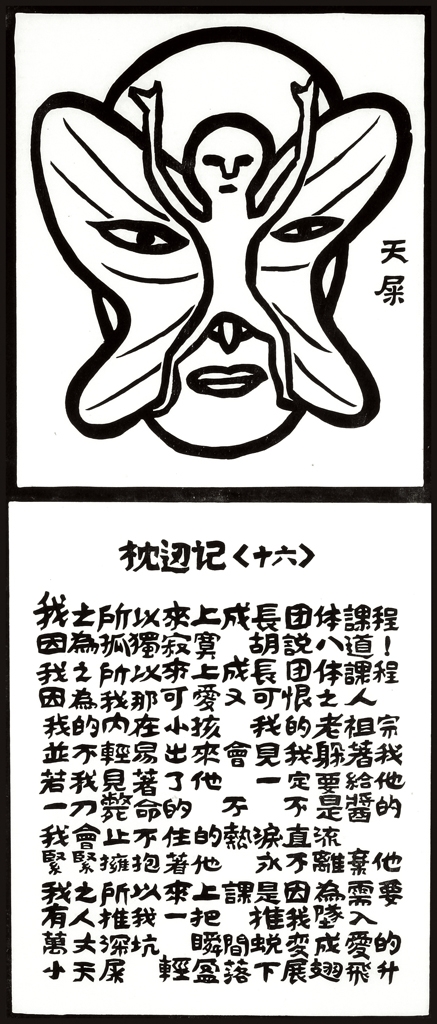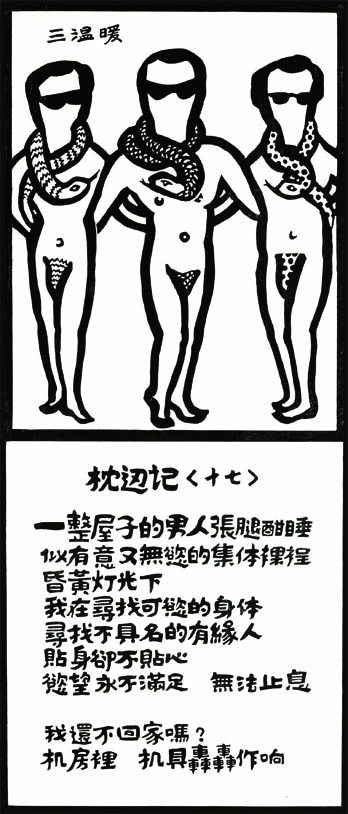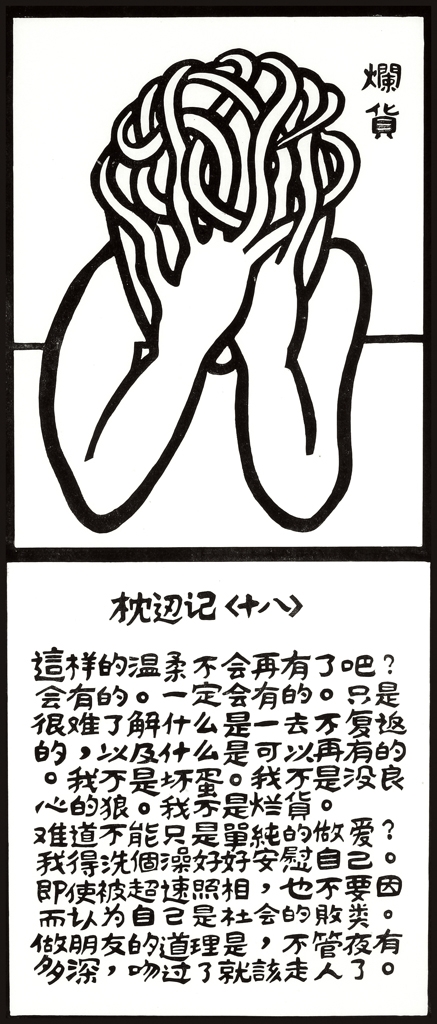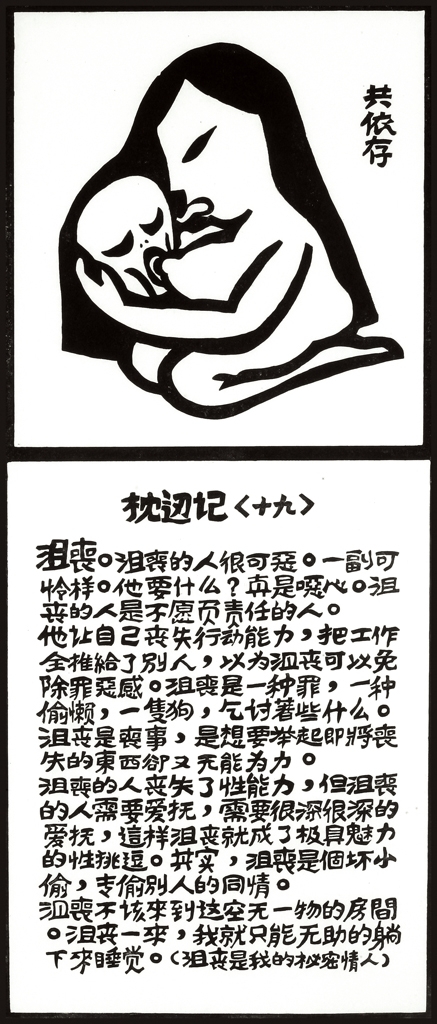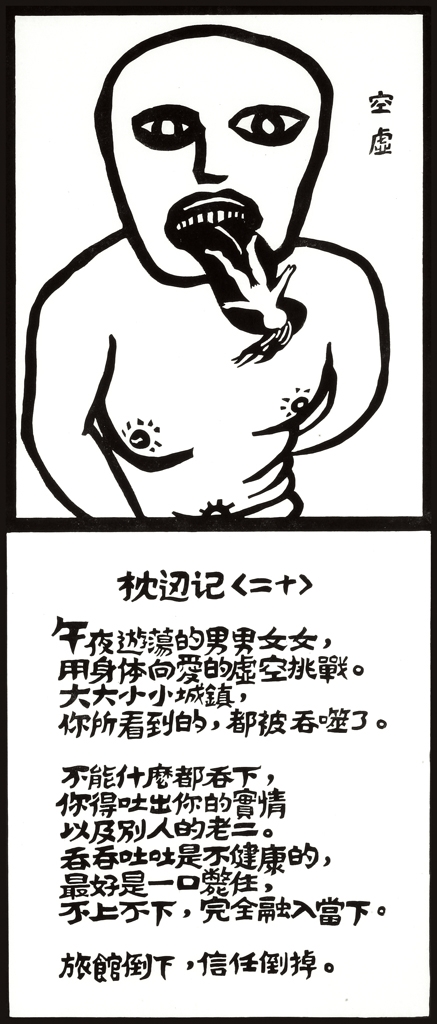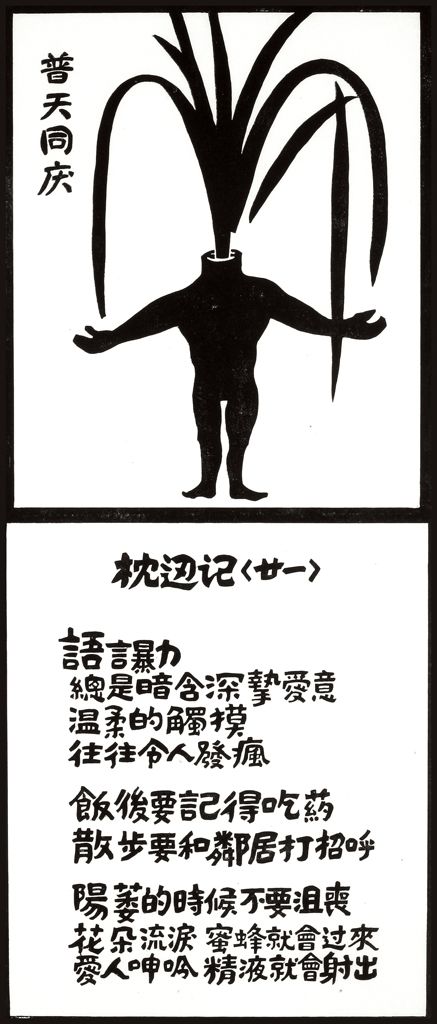 ---
---
Hou Chun-ming's art boldly challenges taboos and stigmas, and is closely related to the political and social environment in Taiwan. His creativity and productivity are extremely strong, and often ritualistic in practice. From galleries and museums to theaters and bomb shelters, he's art ranges from from mixed media prints to site-specific installations and performances, involving dancers as well as the audience.

Hou Chun-ming's art captures the pulse of Taiwanese society. He has declared on more than one occasion: "My creation is all about solving various problems in life."

In recent years, Hou Chun-ming's art has turned to exploration of the self. The series, Eight Generations of the Hou Clan, is a form of autobiography and self-portrait, looking back at the personal experiences of different stages in the artist's life. He borrows from traditional Chinese folklore and mythology, and ultimately blends truth and legend together.
---
Exhibitions
Cheng Tsai-tung, Chu Youye, Hou Chun-ming, Huang Ming-che, Lin Pang-soong, Lin Wan-shih, Liu Dahong, Wu Jun, Yu Youhan
Sept 20 – Oct 20, 2013
Shanghai Xuhui Art Museum
Nov 22 – Dec 27, 2013
Cheng Shiu University Art Center
Jan 8 – Feb 16, 2014
Cultural Affairs Bureau of Taoyuan County
Mar 7 – April 27, 2014
Luodong Cultural Working House of Cultural Affairs Bureau of Yilan County