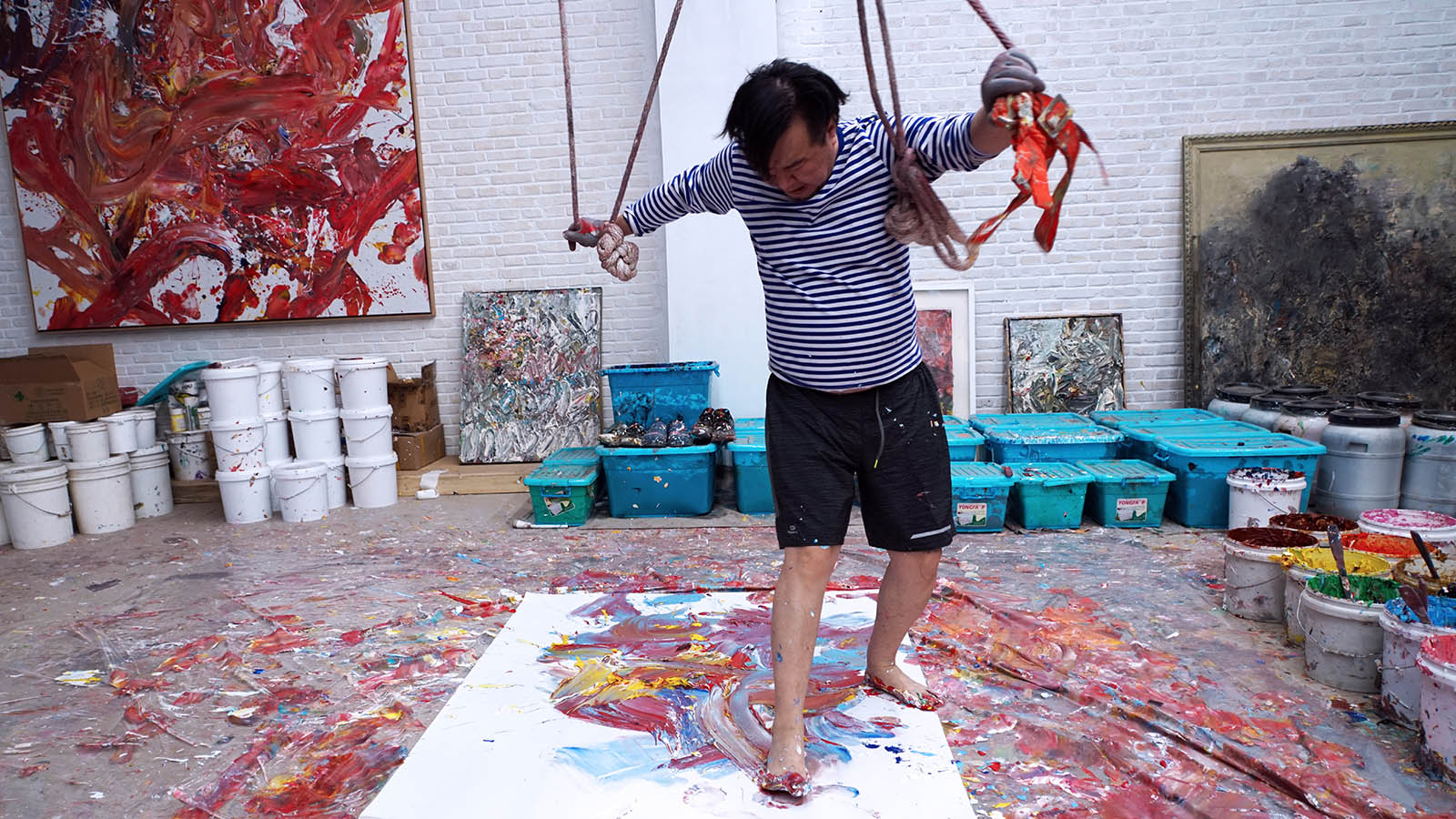 At first glance, Wang Yigang's No. 23 of 2016 appears to be a work free of all conventions. Even as an abstract painting, there appears to be no deliberate thought on the choice of colors, nor coherent reason in the direction or intensity of the brushstrokes. However, the cacophony of paint and excess of artistic liberty is indicative of Wang Yigang's mature style, and a product of the artist's long venture into the field of abstraction.
Looking back at Wang Yigang's early style in the 1990s, figurative elements can be found hidden within the largely abstract compositions. These included stylized portrays of human figures and objects, or graffiti-inspired letters from the English alphabet, often juxtaposed with Chinese characters. Transitioning into the 2000s, references to Western art or culture were abandoned in favor of the Classical Chinese landscape, in which the artist engaged in a clear dialogue of East versus West and tradition versus modernity, where the imagery of traditional Chinese landscape painting represented the East while Modern abstract art was equated with the West. However, since the mid 2010s, the Chinese landscapes previously donning the background of Wang's canvases were also abandoned. Yet, the theme of East versus West persisted, not visually, but on a more substantial level.
Significant formal qualities of Wang Yigang's recent style, in particular the direct application of paint with the hands and feet, can be traced to the Gutai Group of neighboring Japan. Founded in 1954 following the Allied-occupation of Japan, the group emerged in a period of national reconstruction, and was a response to the reactionary artistic practices associated with the country's militaristic past. Under the strong influence of US politics and culture in post-occupation Japan, the Gutai Group was itself inspired by Abstract Expressionism in the US. As the first distinctively American art movement, many of its artists sought to break free from the European tradition that had held sway prior. Coinciding with America's post-war rise, the success and influence of Abstract Expressionism effectively shifted the center of the art world from Paris to New York.