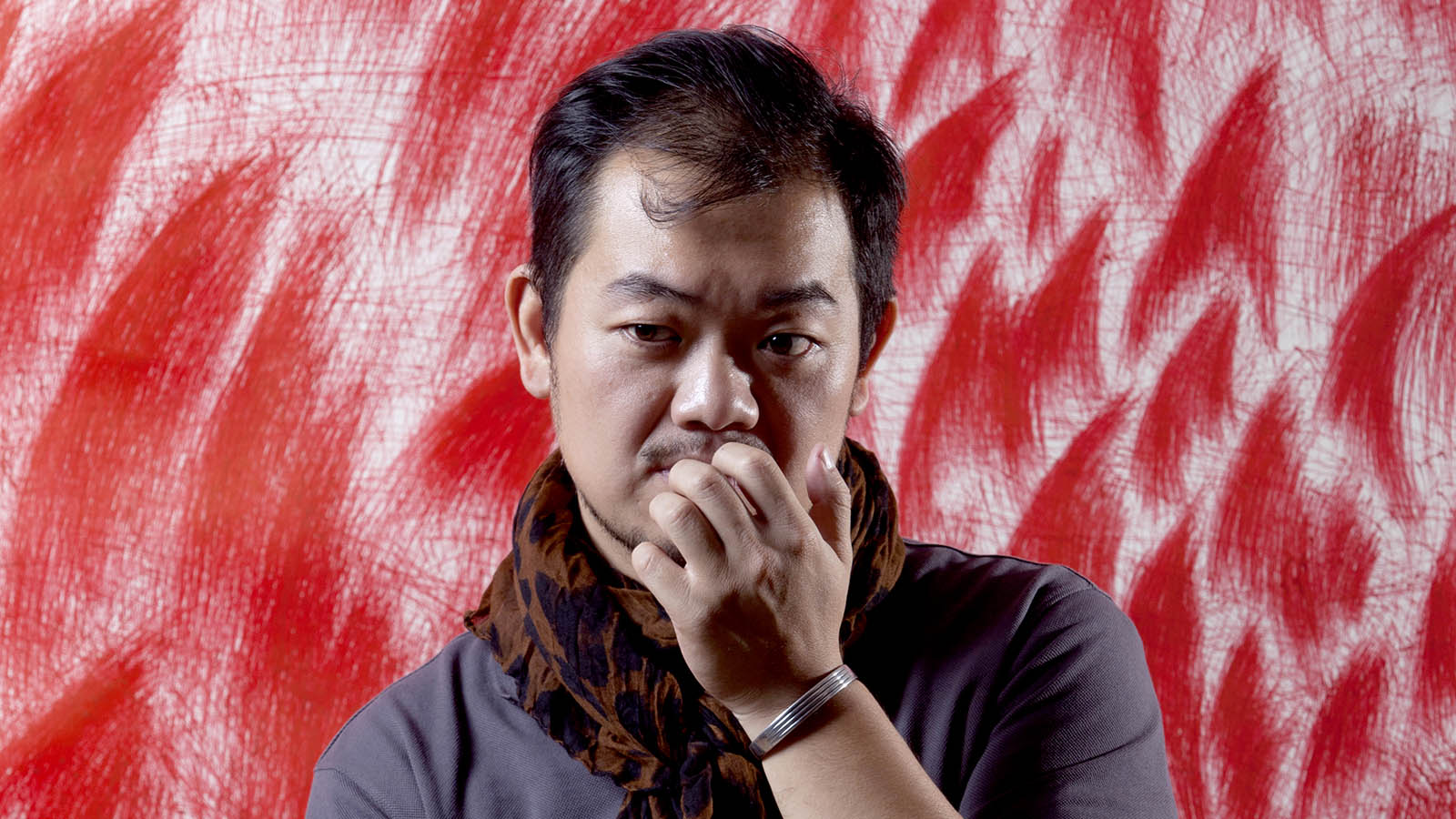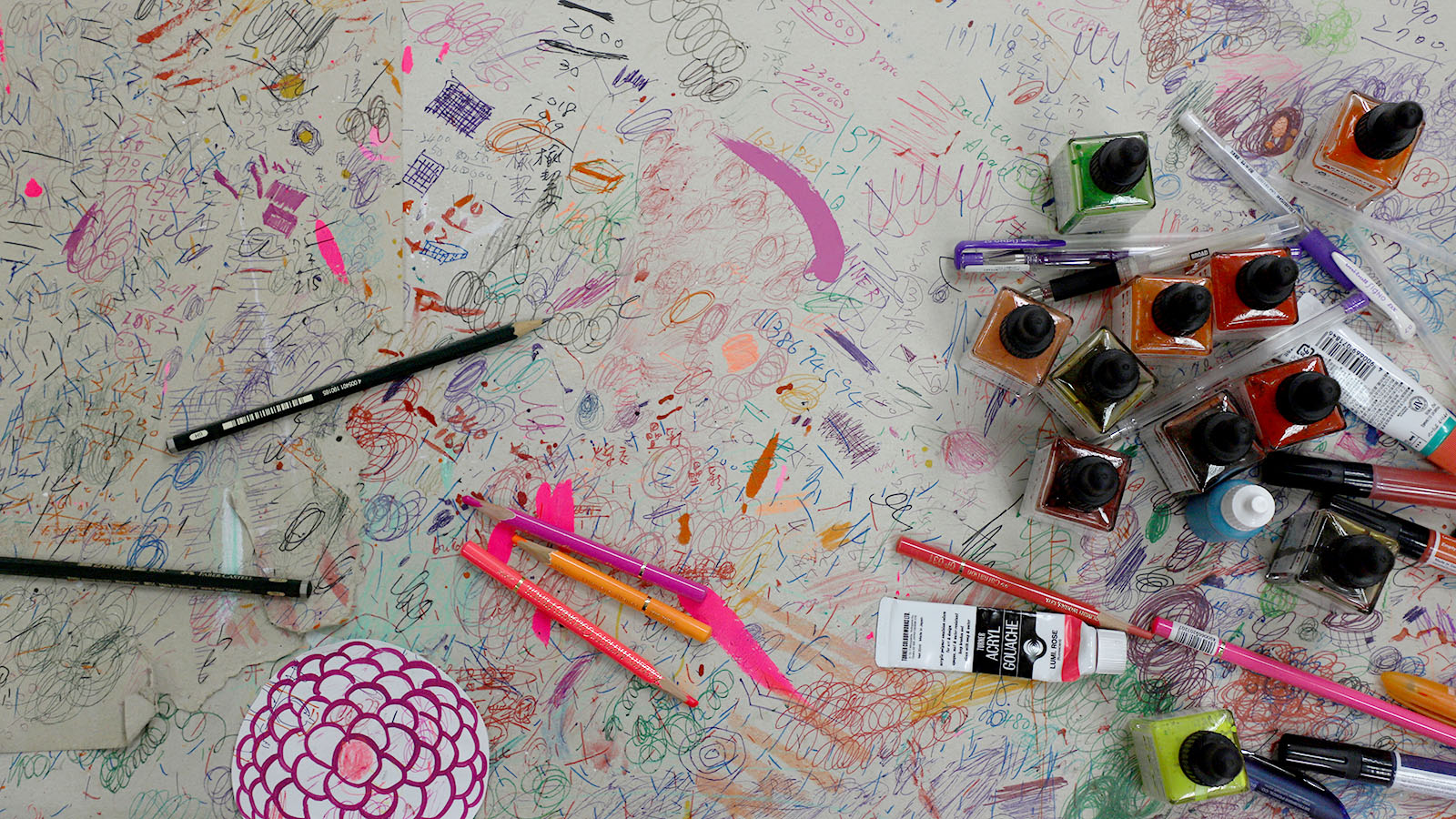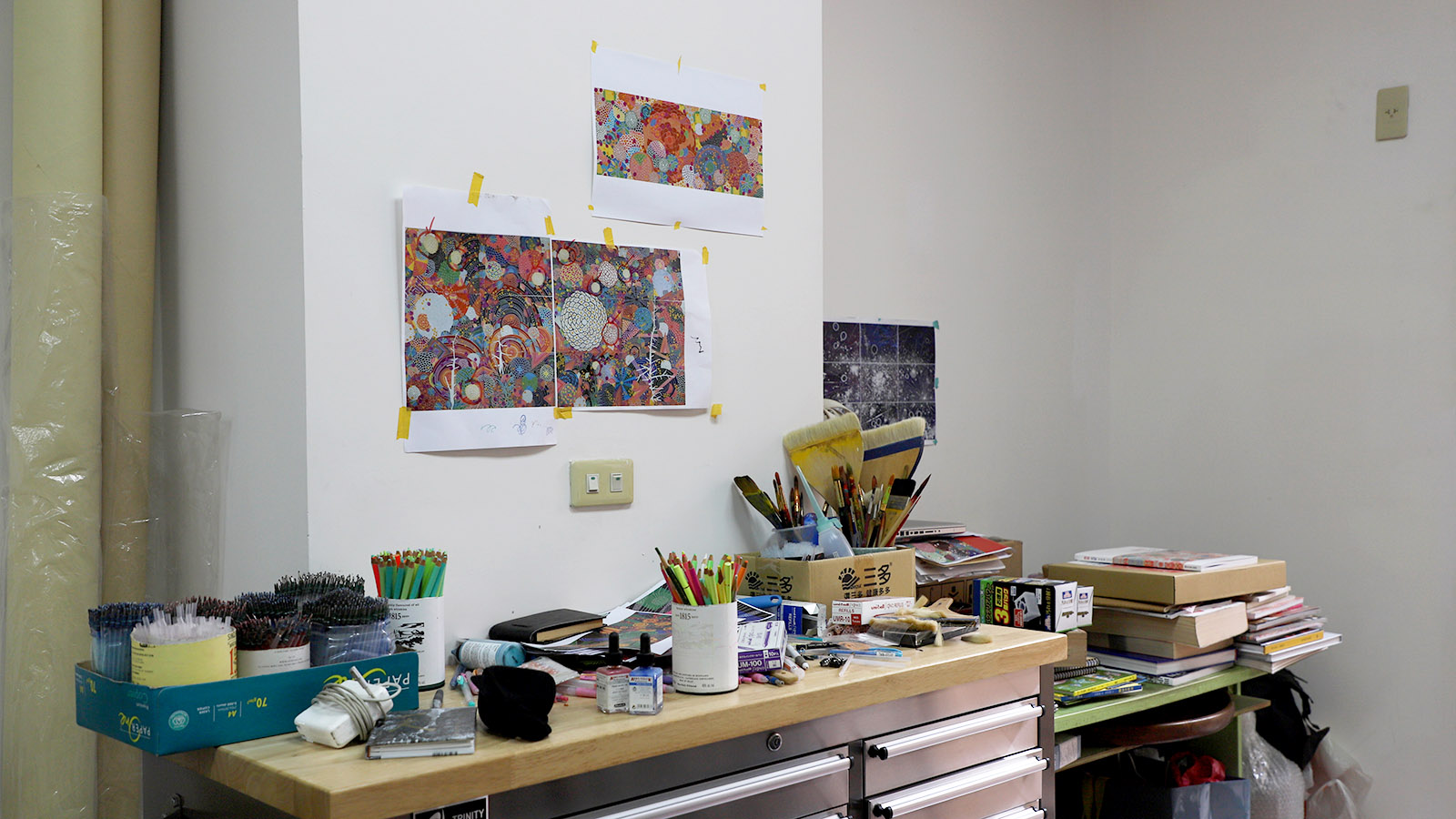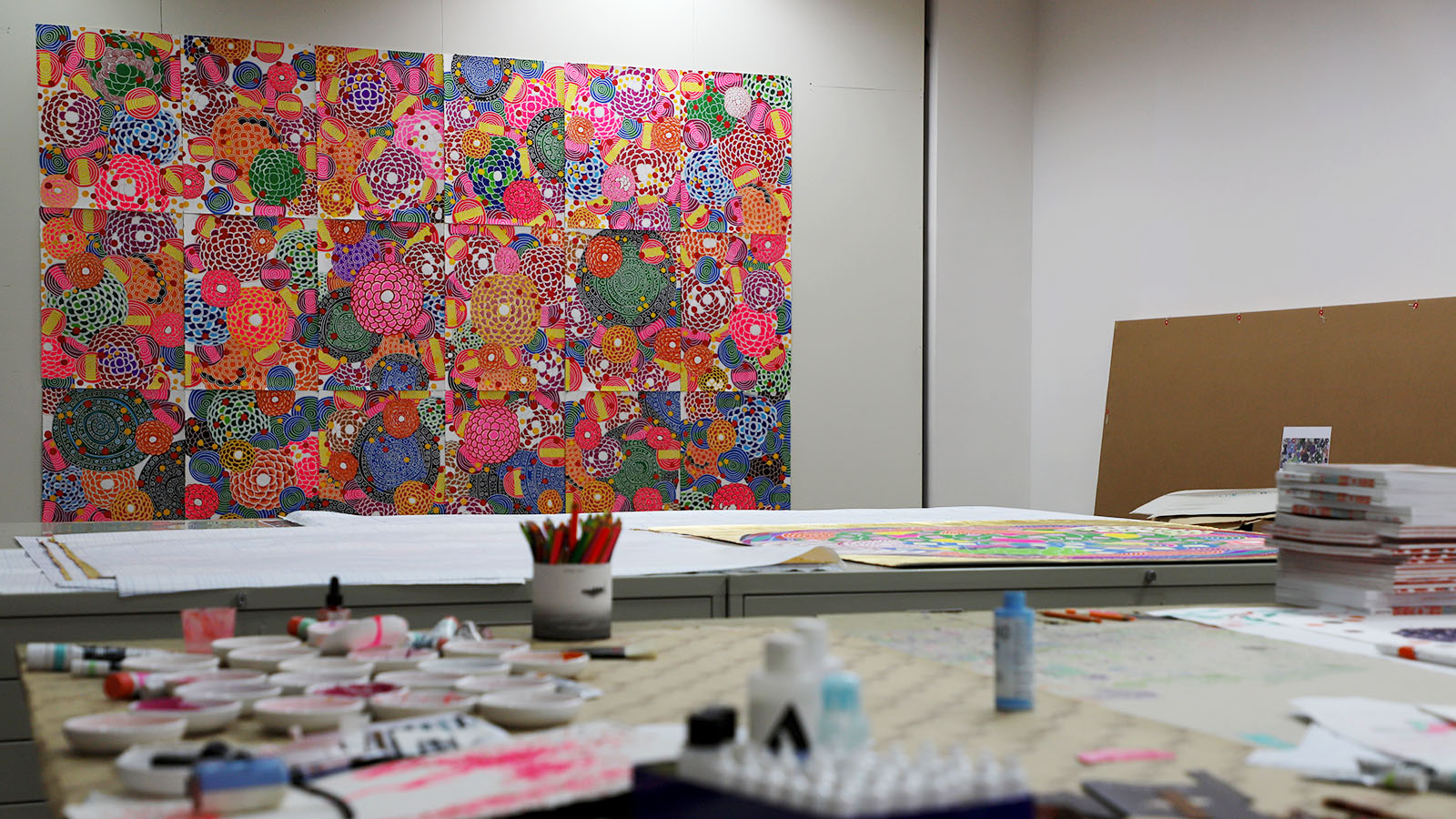 Tzeng Yong-ning's Studio, Guandu, 2019
Tzeng Yong-ning's Studio, Guandu, 2019
Tzeng Yong-ning's Studio, Guandu, 2019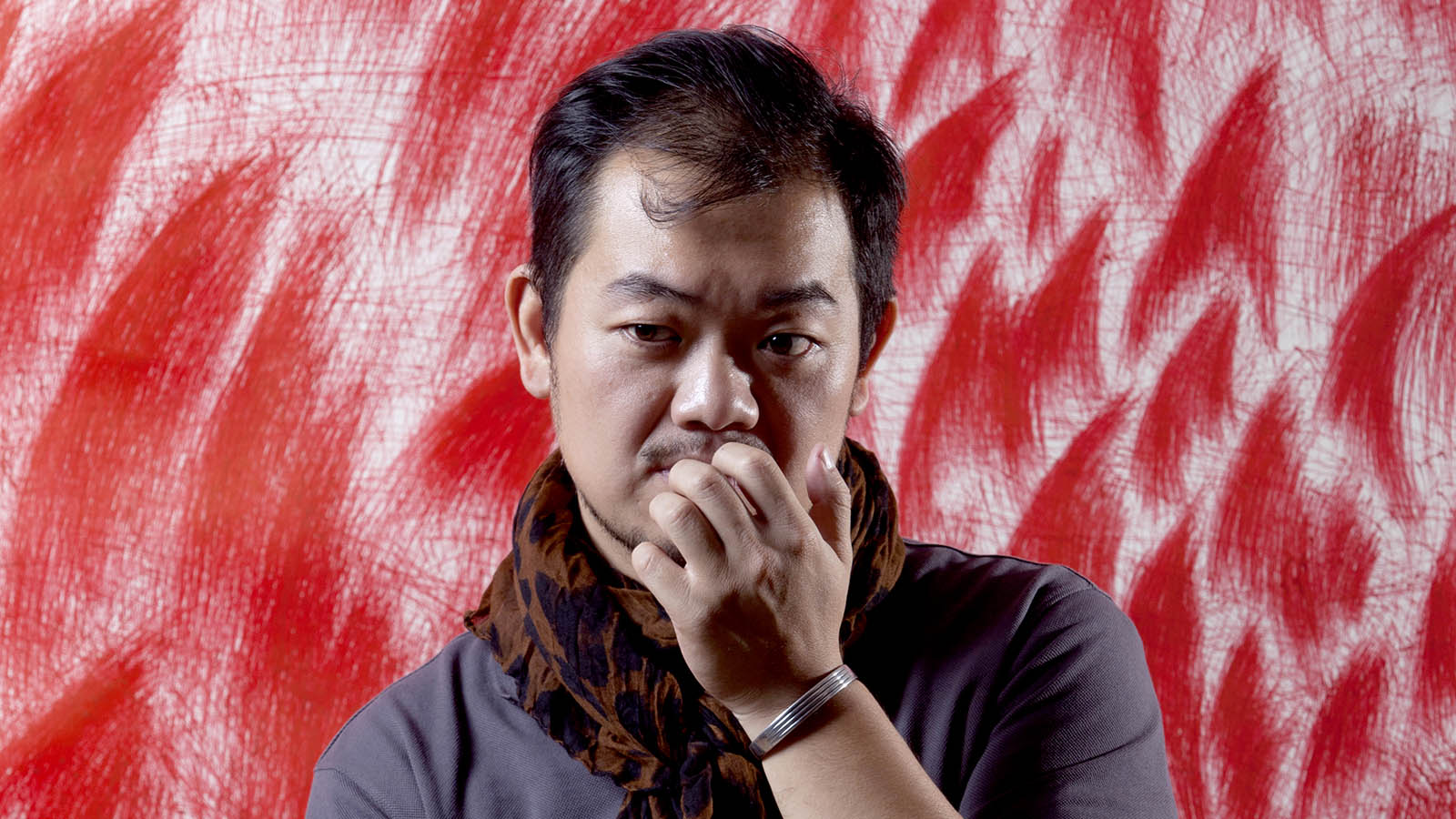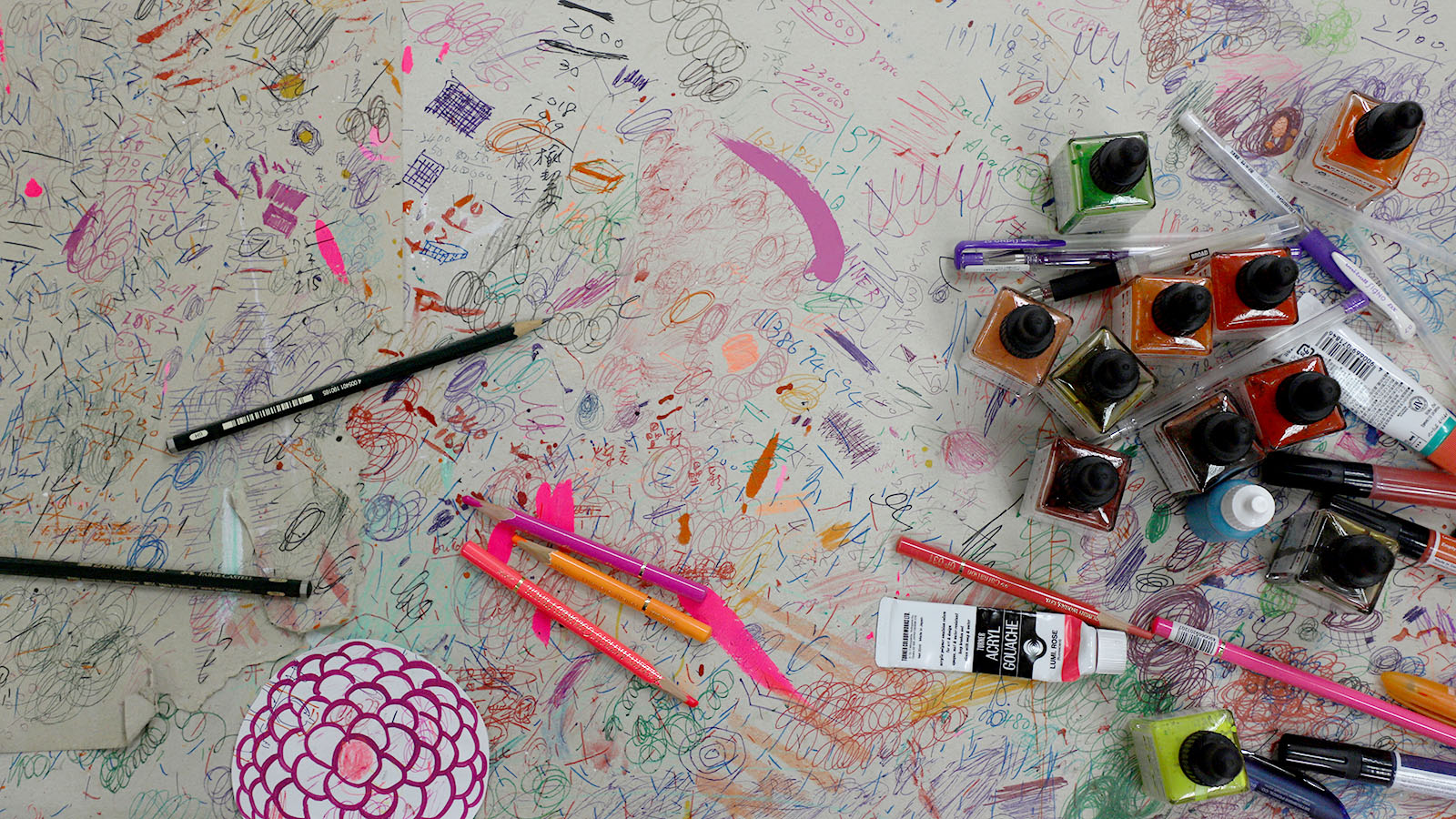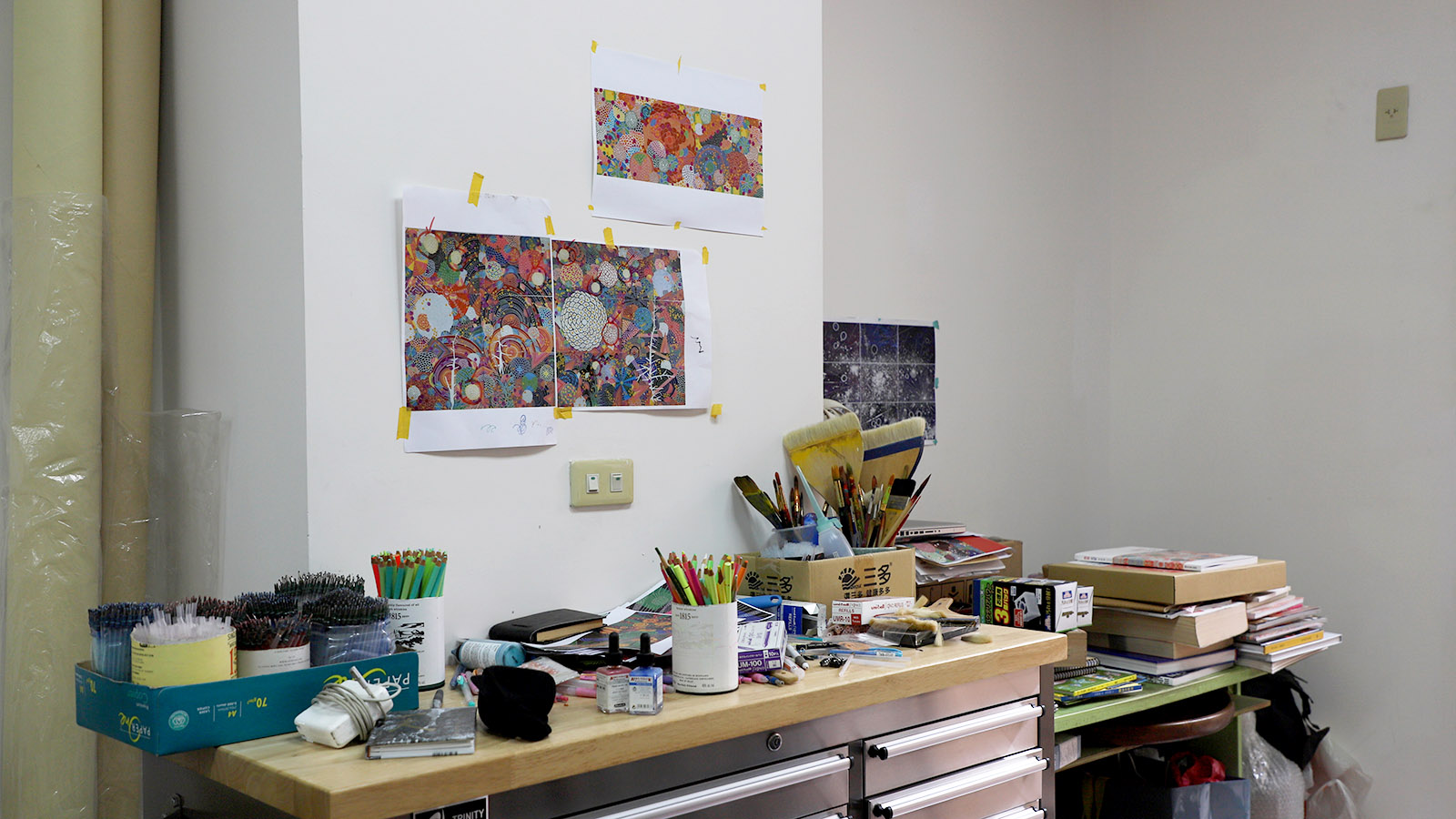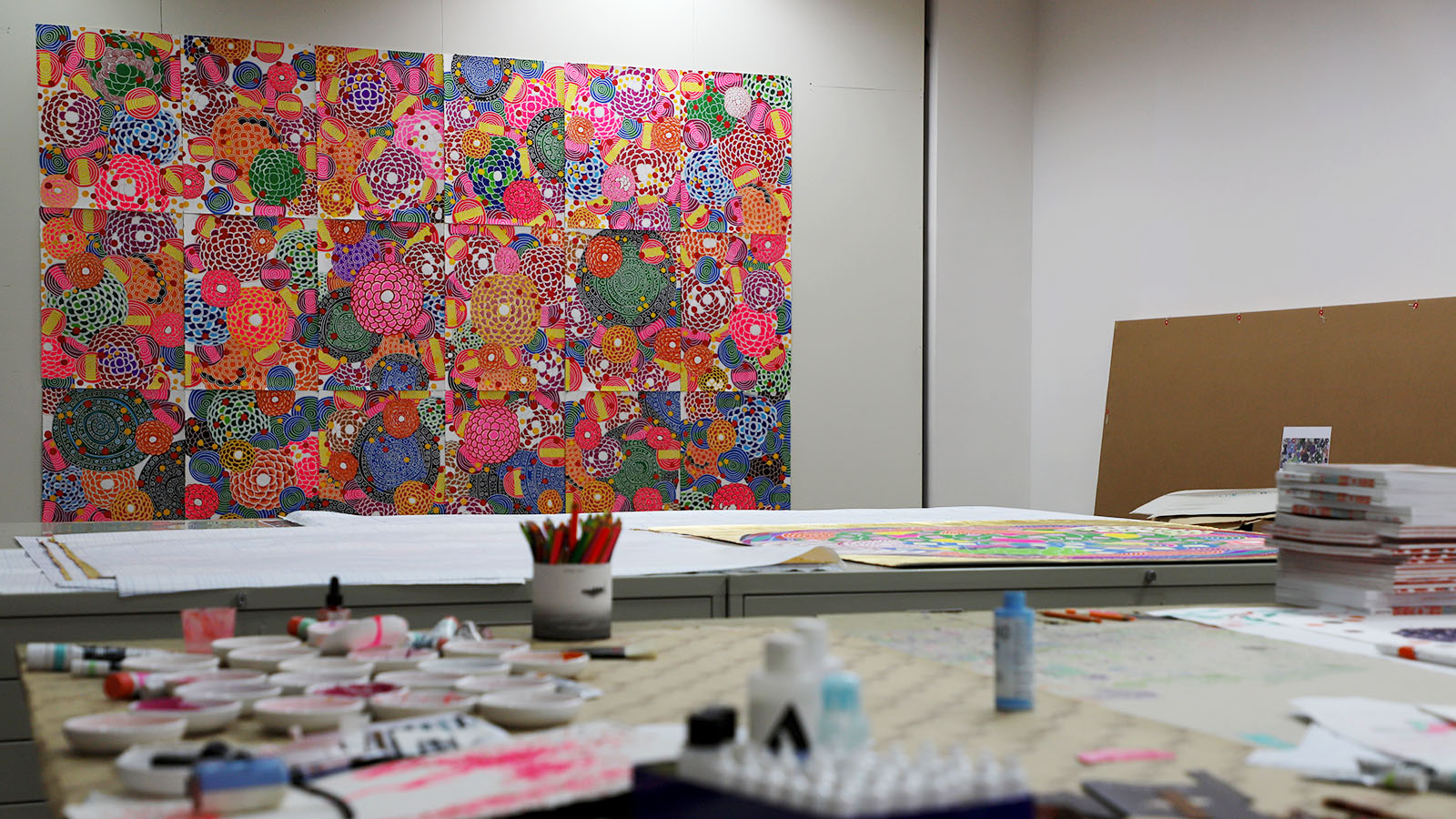 ---
---
Works
---
---
---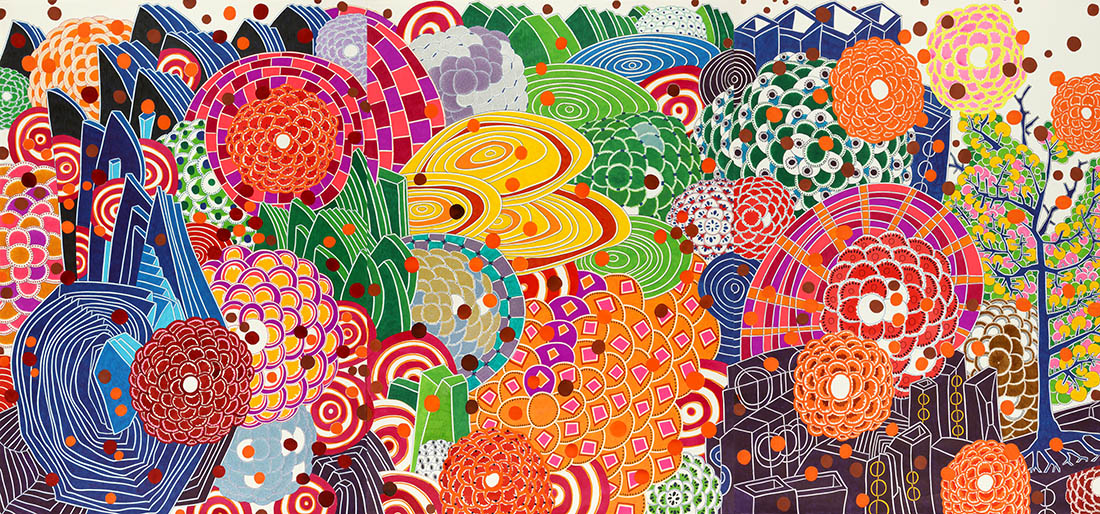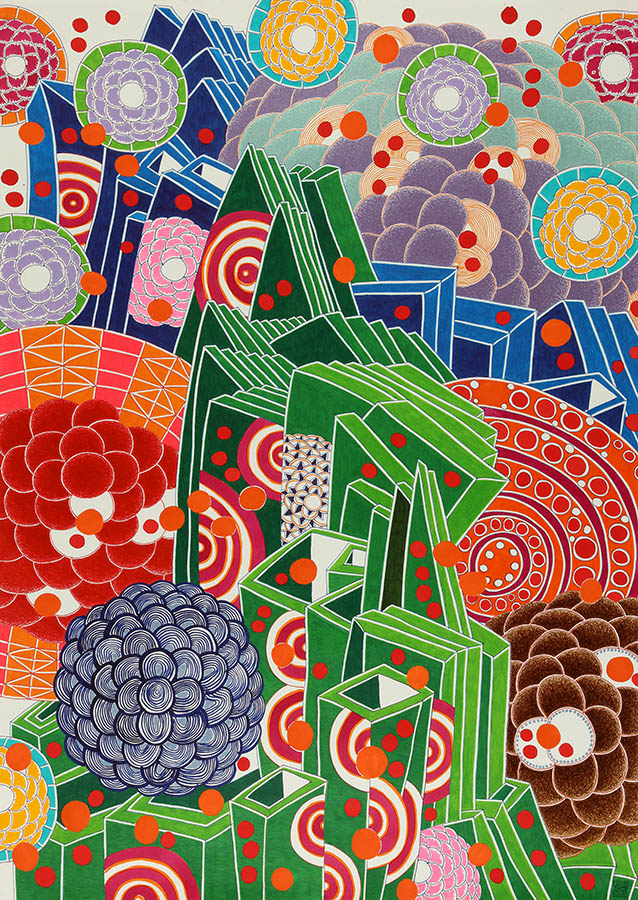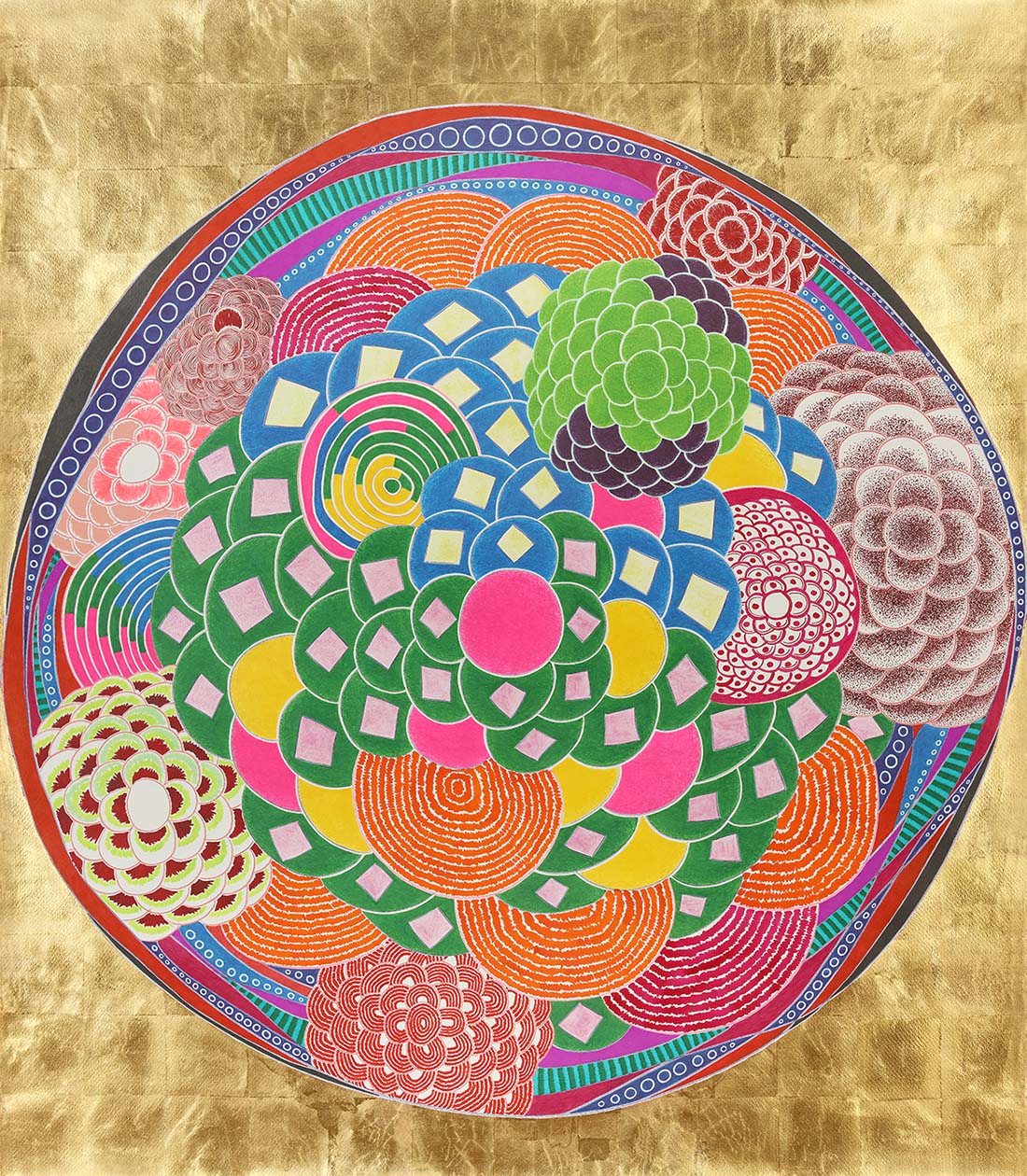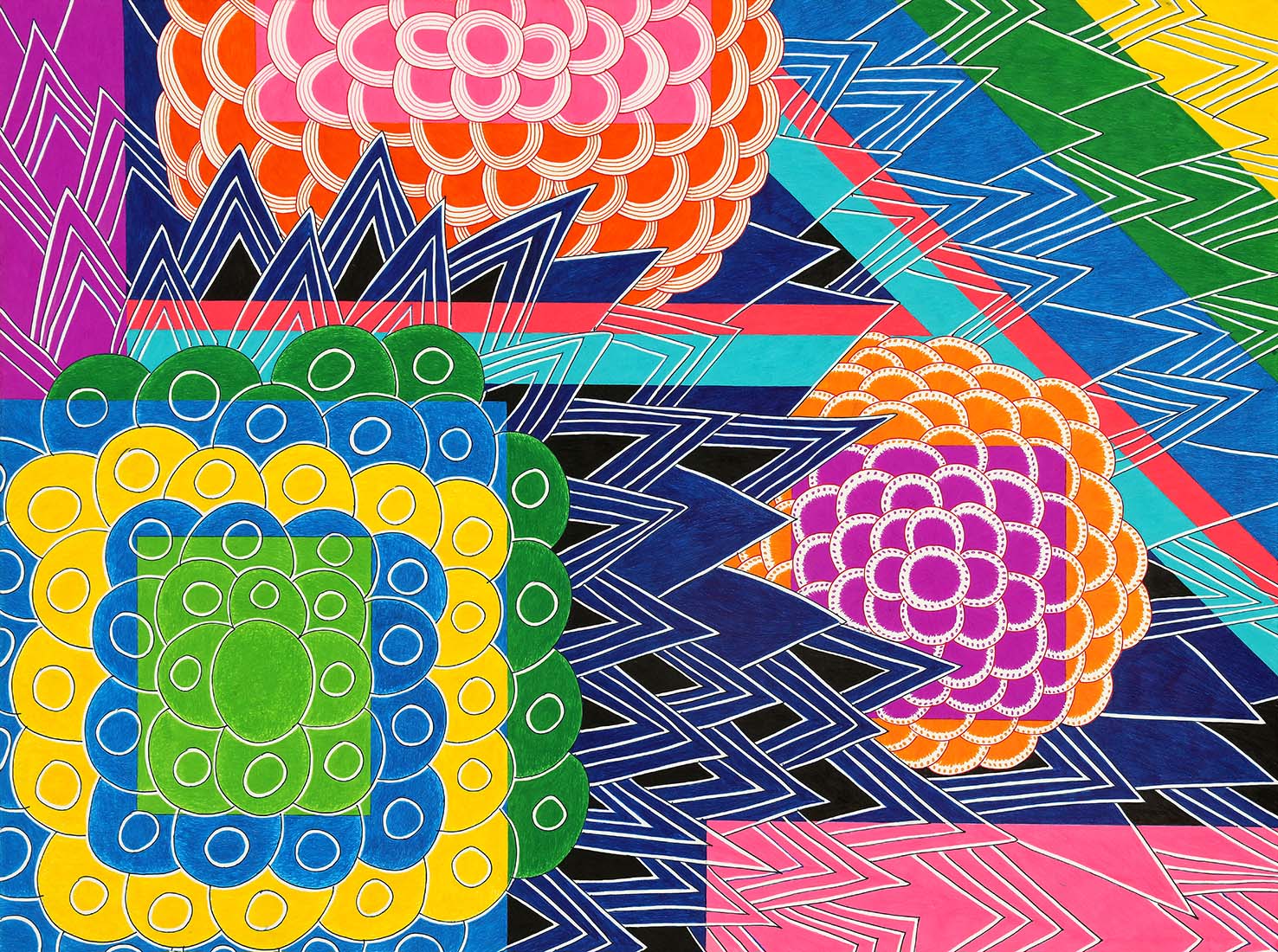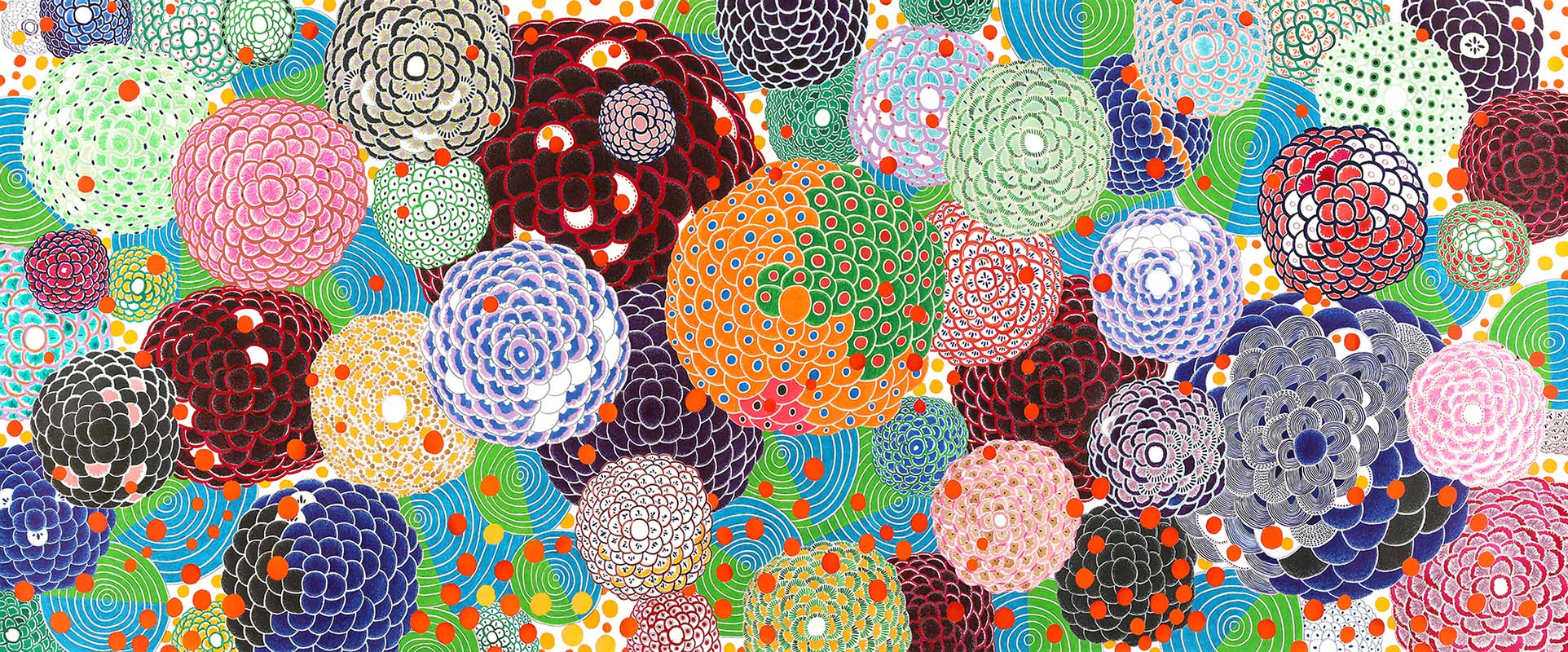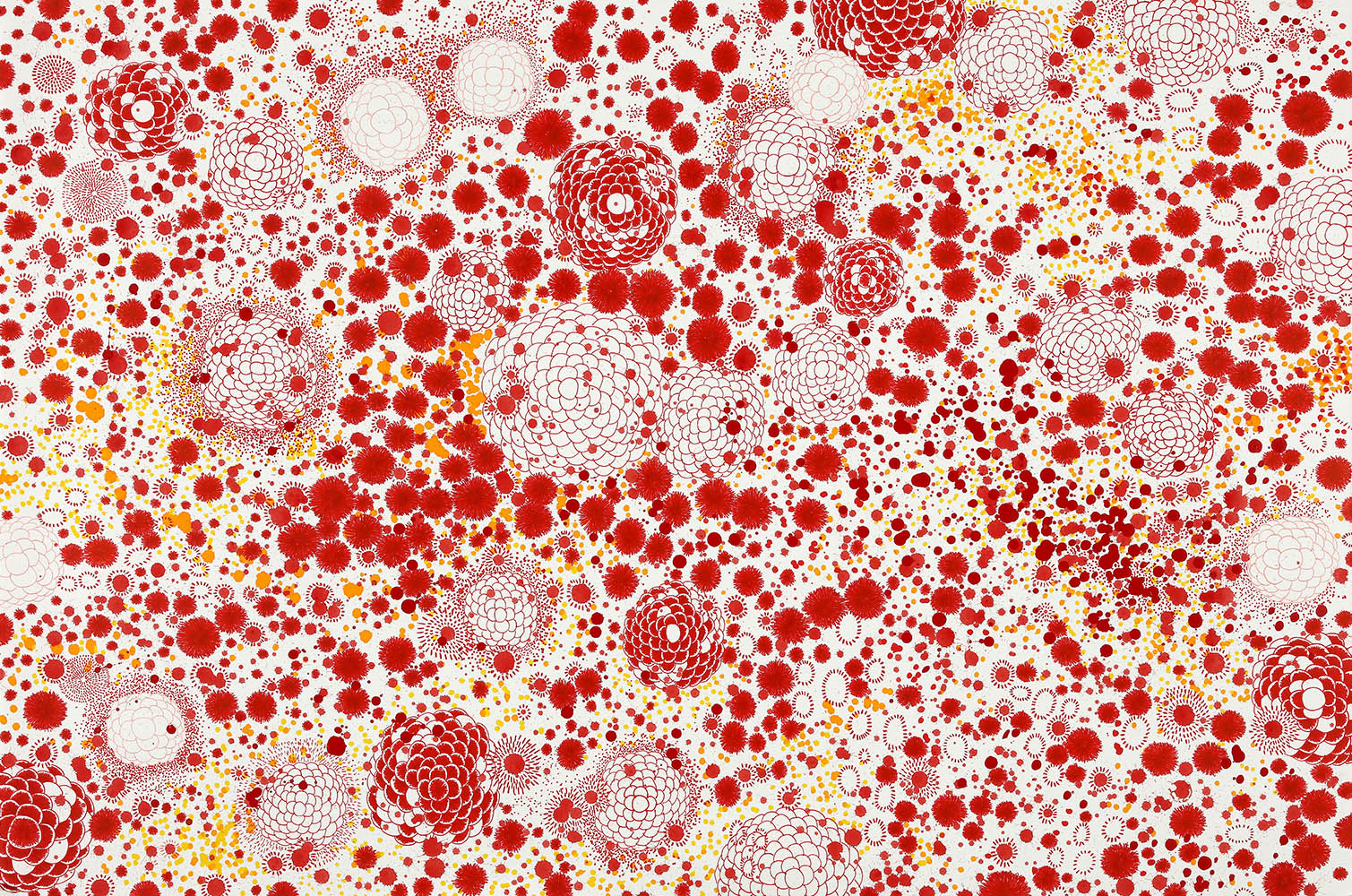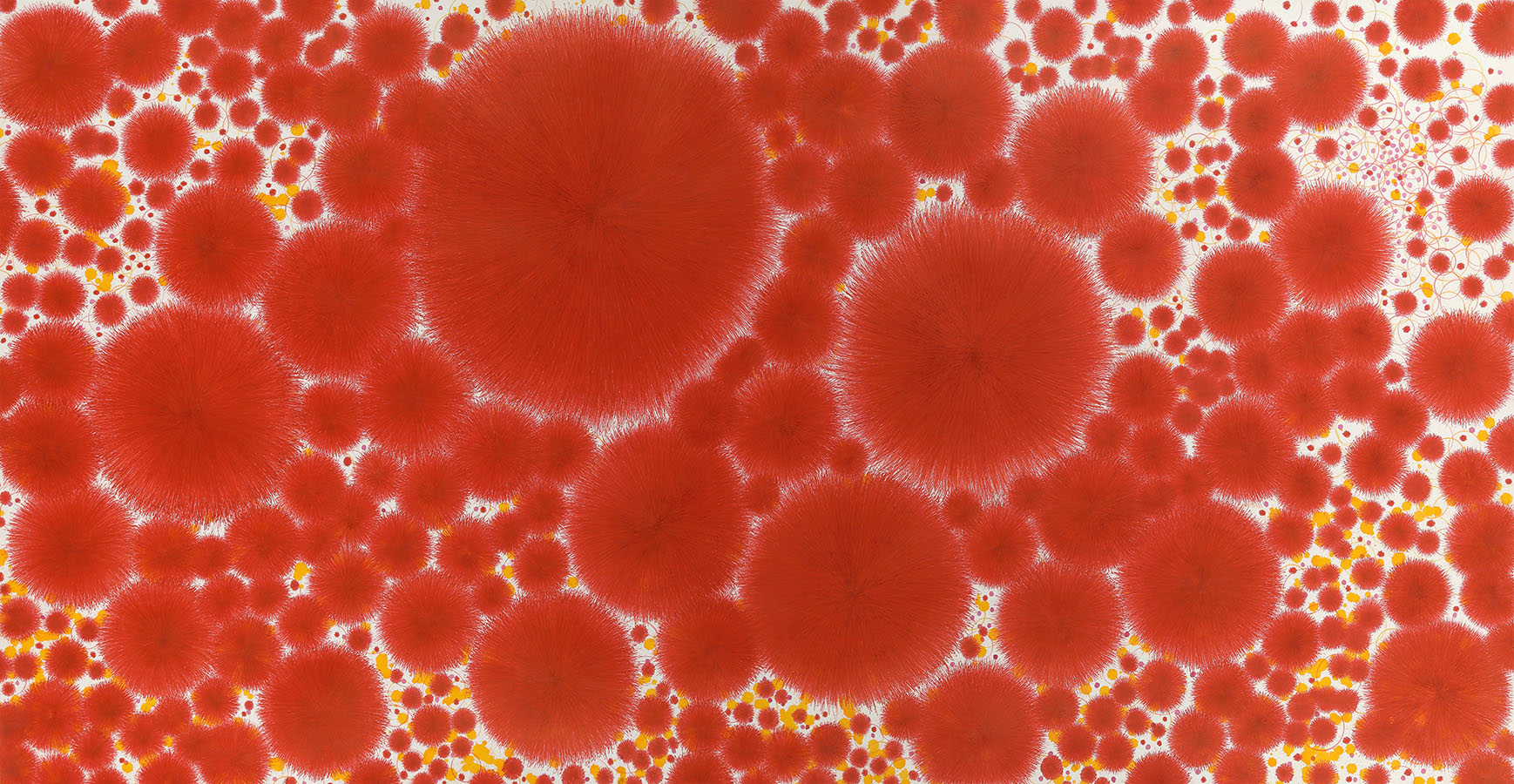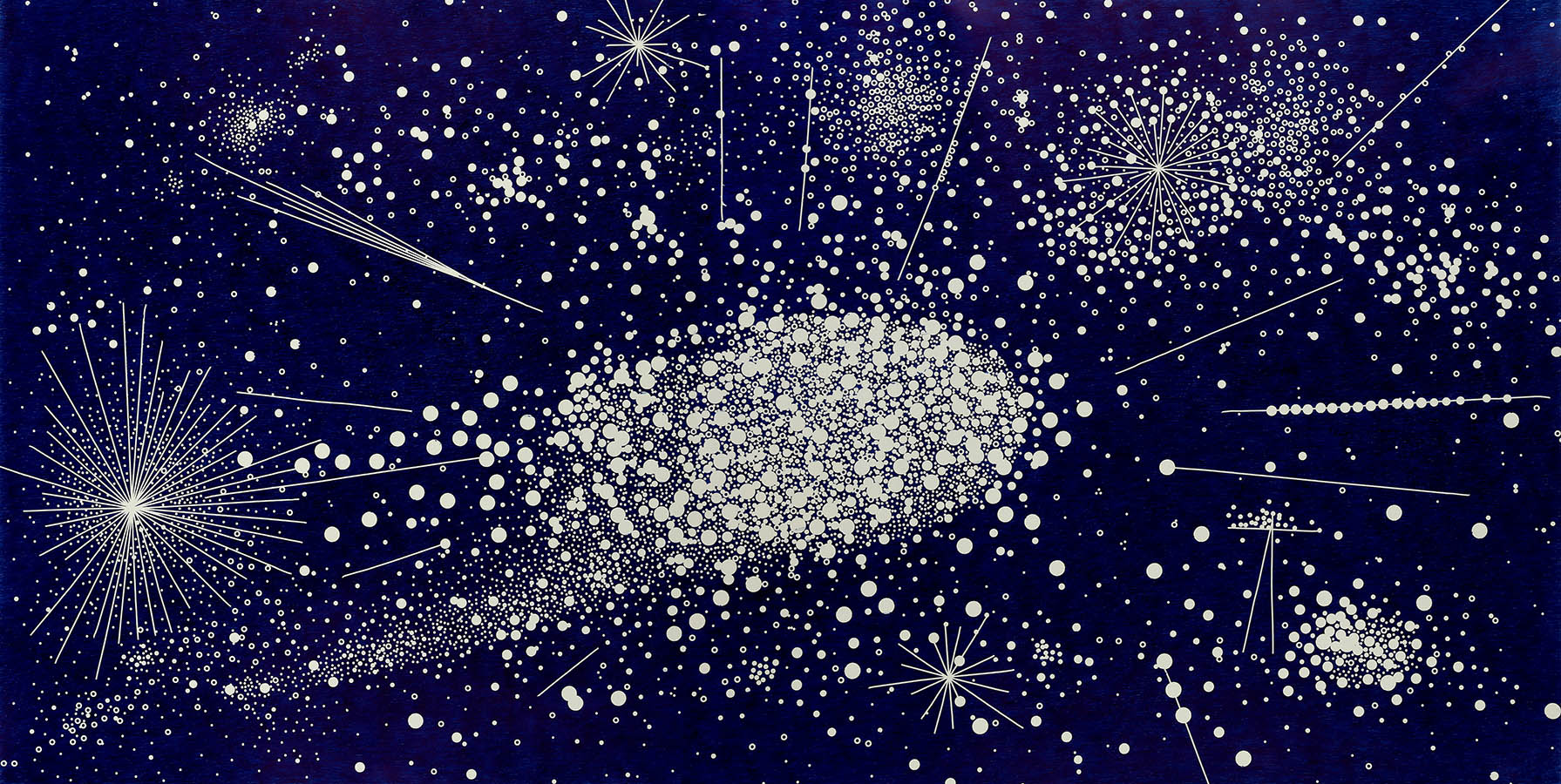 Tzeng Yong-ning, Landscape - Uphill 09, 2020
Tzeng Yong-ning, Landscape - Uphill 05, 2020
Tzeng Yong-ning, The Flower of Plenary 04, 2019
Tzeng Yong-ning, Small Brocade 12, 2019
Tzeng Yong-ning, Four Seasons - Winter Warmth, 2018
Tzeng Yong-ning, Build 13, 2018
Tzeng Yong-ning, Rhythm of the Origin 50, 2017
Tzeng Yong-ning, Fire 05, 2017
Tzeng Yong-ning, Red Sparks, 2010 - 2016
Tzeng Yong-ning, Stars 07, 2013 - 2015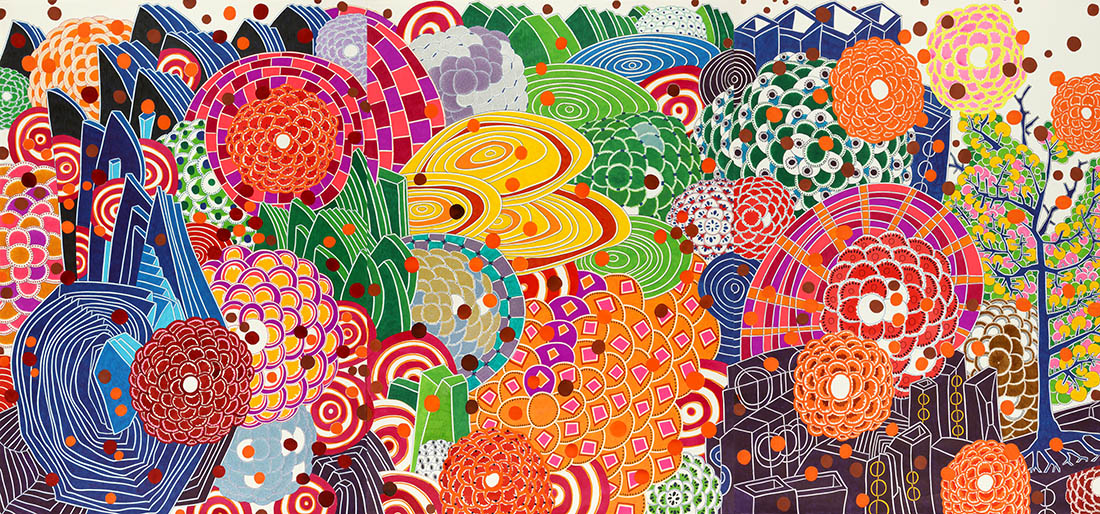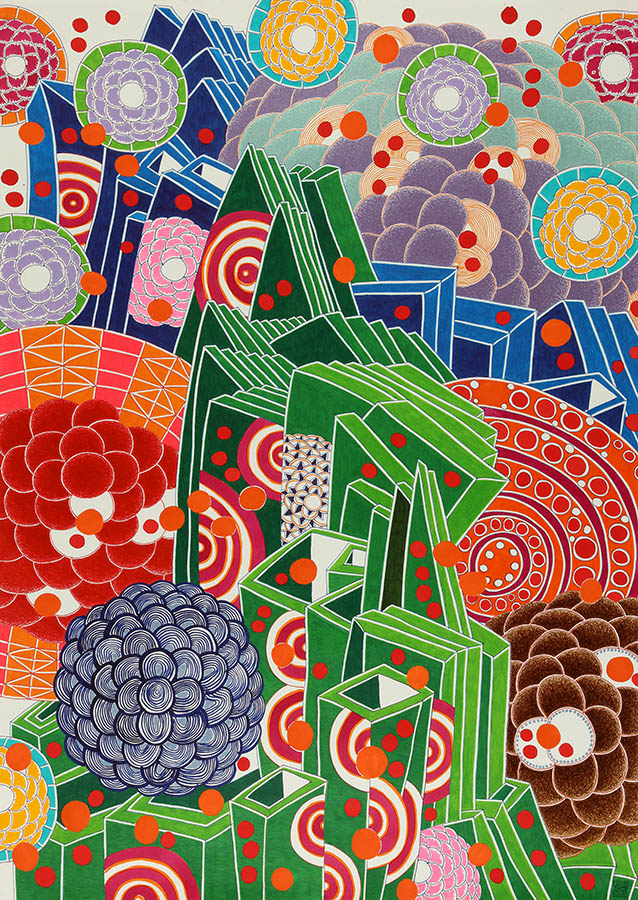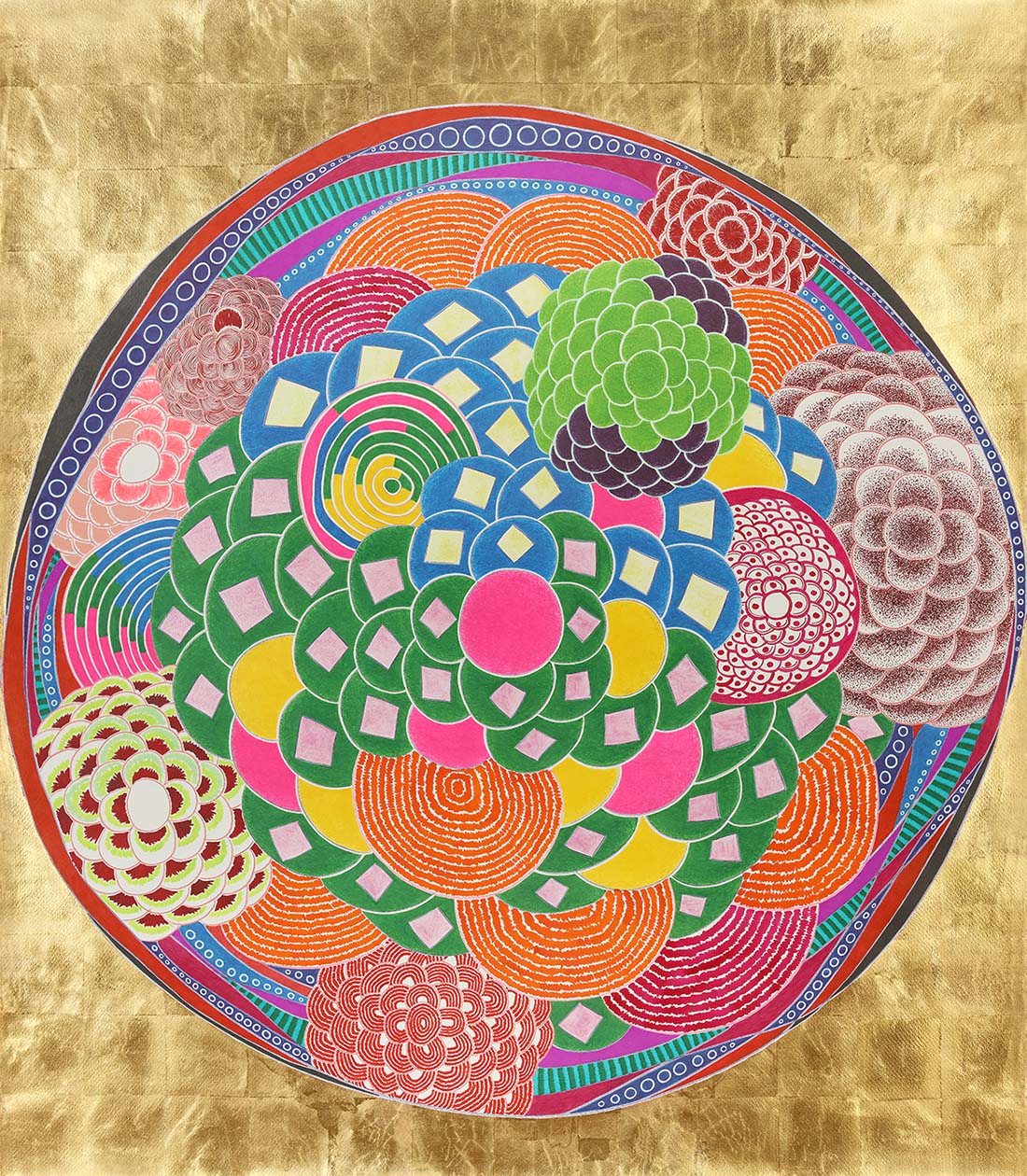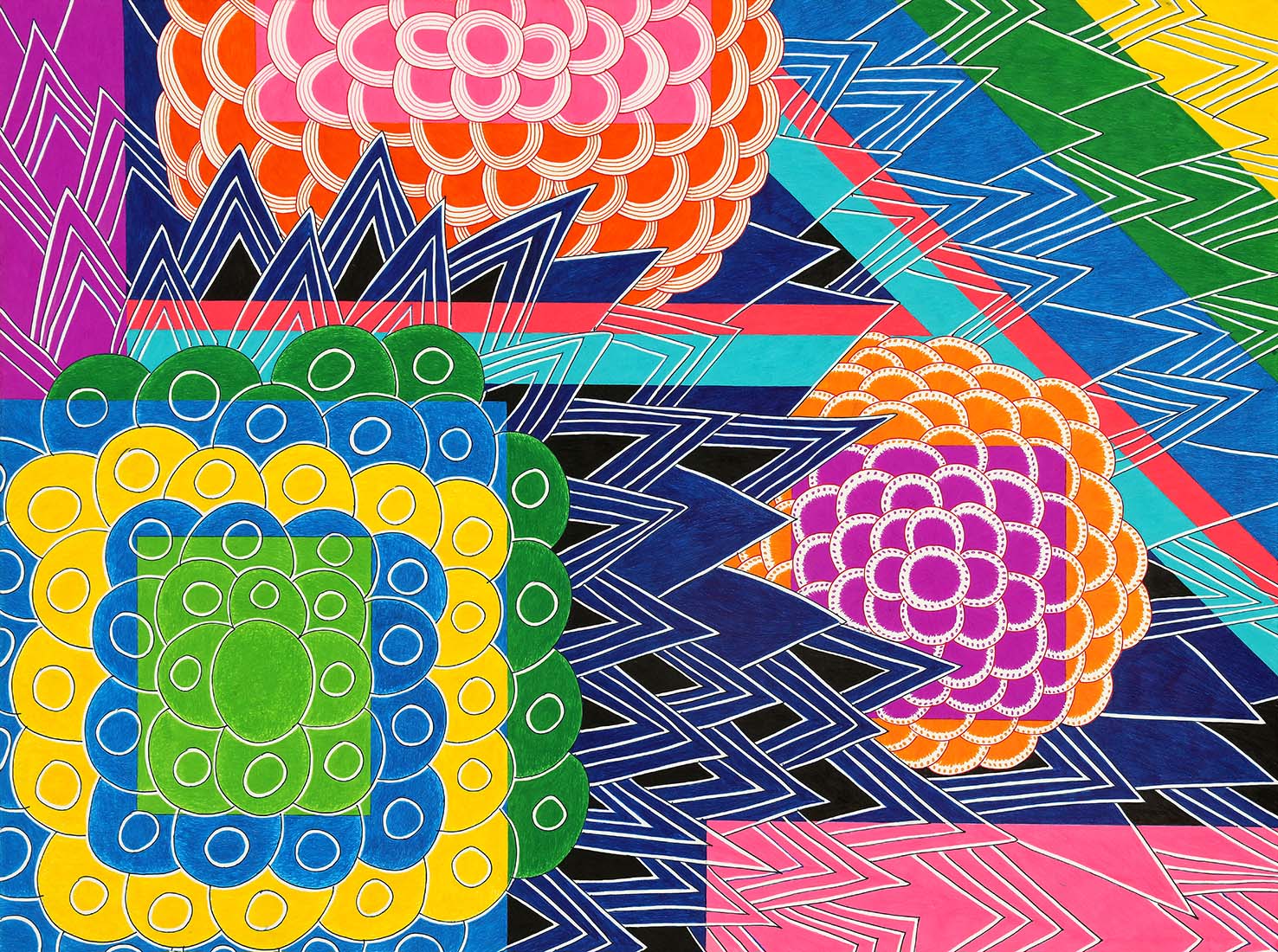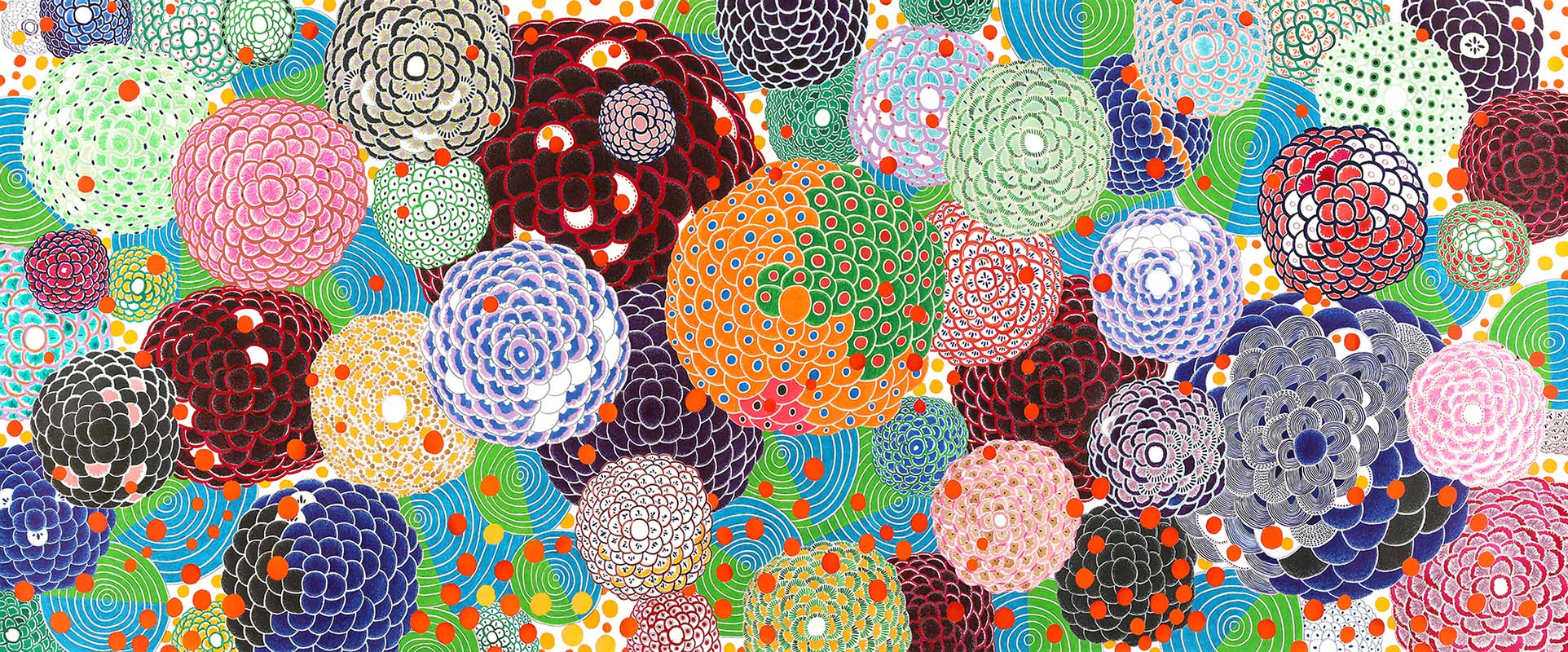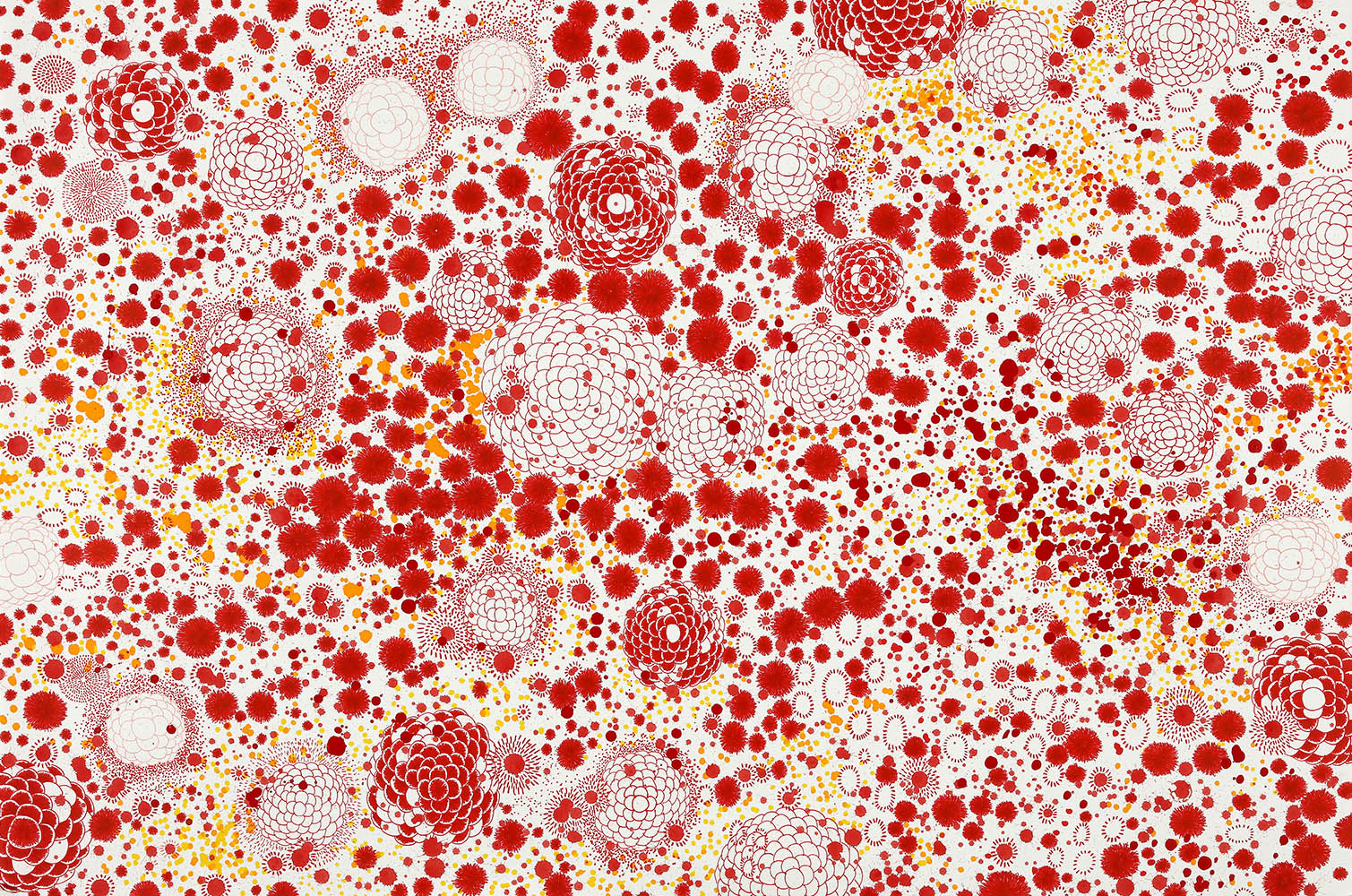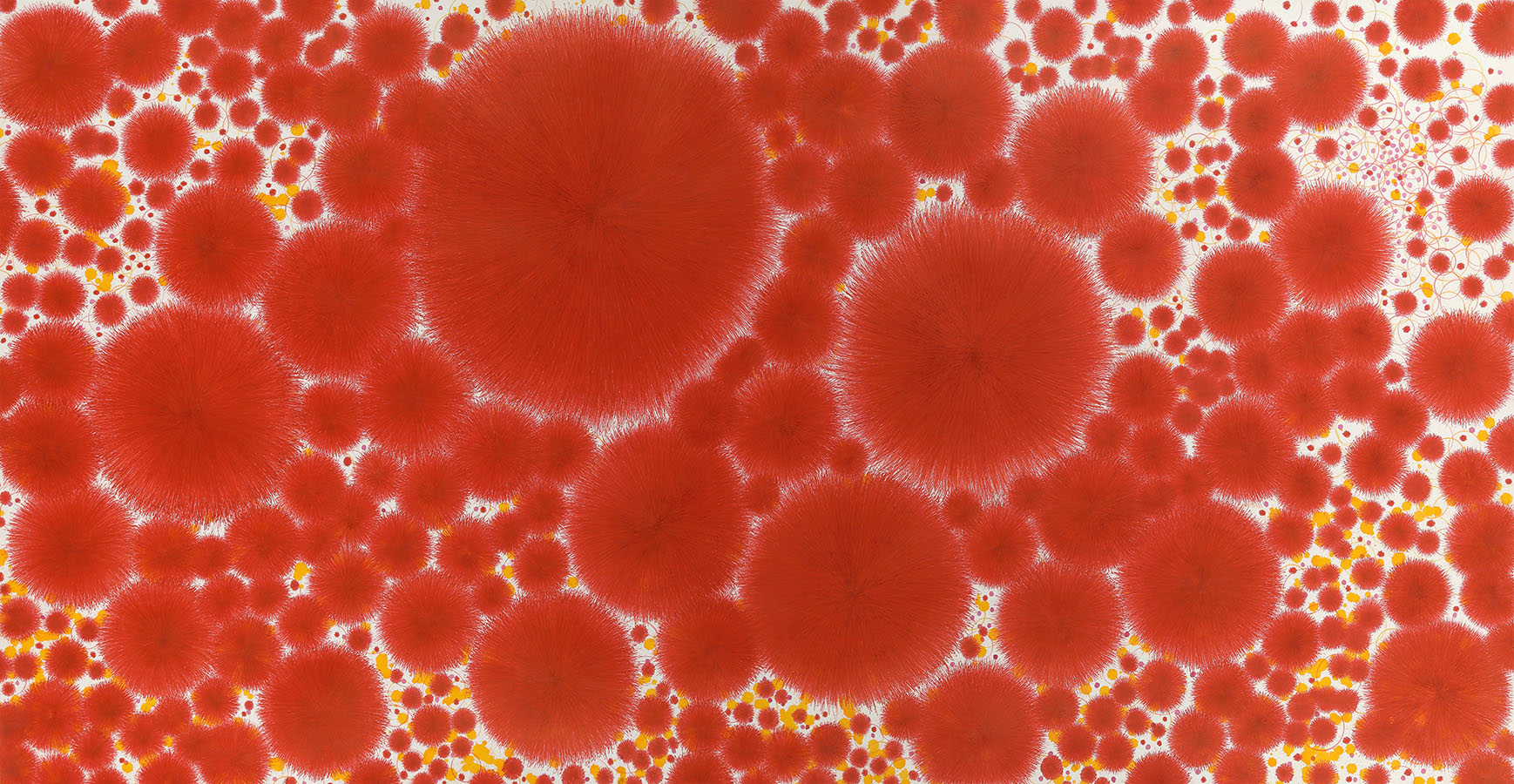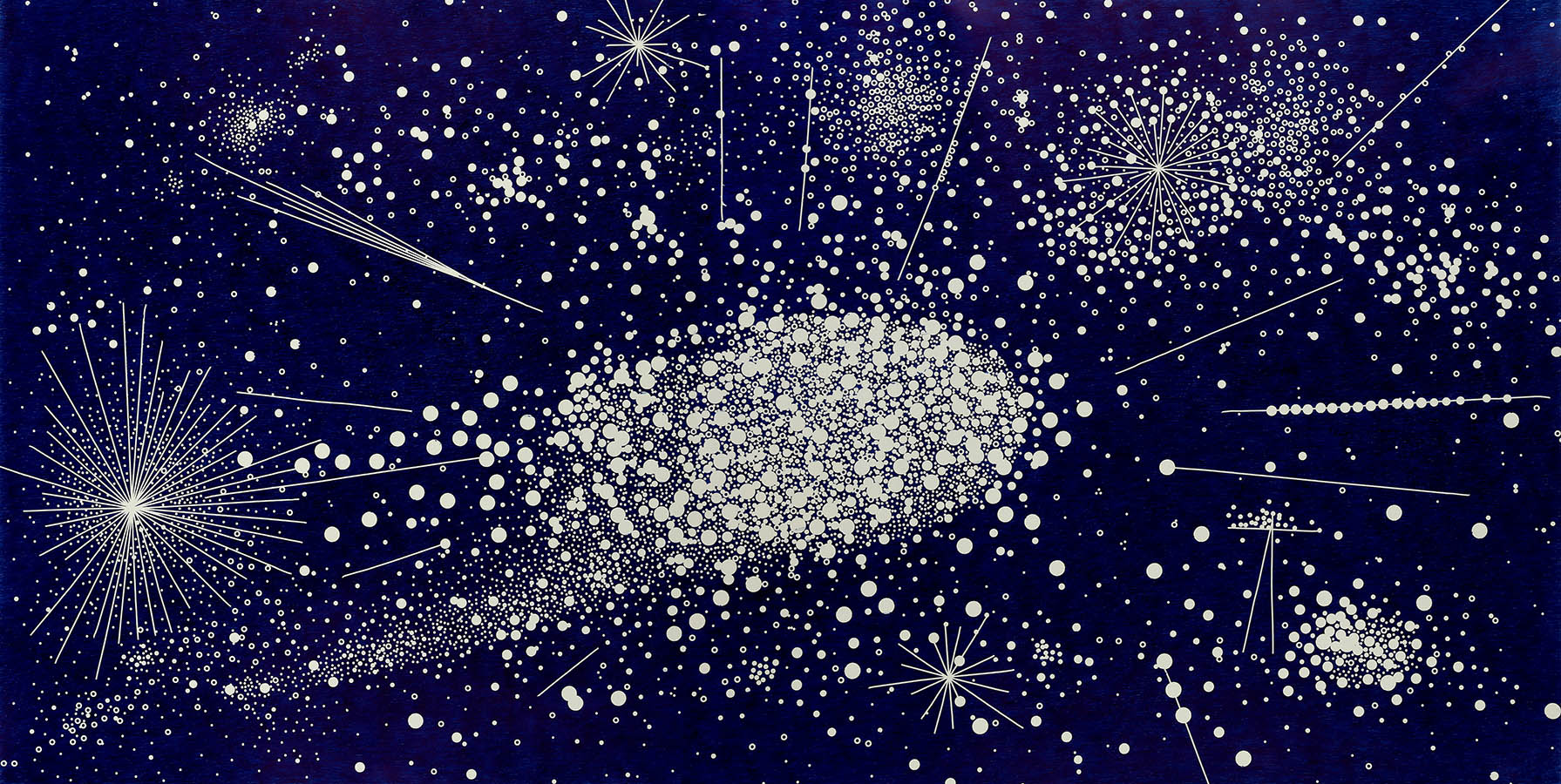 ---
---
Tzeng Yong-ning considers himself as a "barbarian," because the environment he grew up in, was either the countryside, in mountains or by the sea. Due to his childhood interest in art and the encouragement of his father, who was an amateur photographer, Tzeng spent a great deal of time in nature, sketching, taking photographs, and ultimately leaving a large portfolio of botanical illustrations, all of which later served as inspiration for his art. His first solo exhibition came to be titled Barbarian Garden.
Read More
His first solo exhibition was a testament to Tzeng Yong-ning's childhood experience with nature and art. Subsequently, the exhibition opened the doors to Taipei National University of the Arts (TNUA), when Tzeng bid farewell to over five years of independent study in his hometown of Lukang.

Since his initial success, Tzeng Yong-ning has produced new works every year, as well as developed several different series, and has essentially made his presence as an emerging young artist. In addition to sheer physical audacity, his art is a testament of his creative spirit. Working with ball-point pen is highly labour-intensive. There are no shortcuts, and no energy can be spared. Inside his studio, lies countless empty pen cartridges: an extraordinary sight. Furthermore, on the paper of his work, tens of millions of lines, build and overlap in complex images, filling the entire composition, in which each and every line represents the daily labour of the artist.
Read Less
---
Exhibitions
Tzeng Yong-ning
April 28 – May 25, 2022
NYCU Arts Center
May 28 – July 30, 2022
Loftyart Gallery
Tzeng Yong-ning
Oct 10 – Dec 12, 2020
Tzeng Yong-ning
Oct 5 – Dec 7, 2019
---
Journal
Essay
Primitive Landscape of Belief
The term "primitive" can be defined as an initial stage in evolutionary development. "Ecology" is the state in which organisms live and adapt in a given natural environment. Therefore, "primitive ecology" refers to an ecosystem independent of and undisturbed by external human activity. To borrow terms and definitions from the discipline of ecology to describe Tzeng Yong-ning's art of course evolves a certain degree of appropriation.
Empty Ball-point Pen Cartridges, Tzeng Yong-ning's Studio, Guandu, 2019. Photo: Yu Ming-lung
---
News
In Conversation
Tzeng Yong-ning
The academic seminar to Tzeng Yong-ning's solo exhibition, Primitive Landscape of Belief, titled The Belief of Art – Tzeng Yong-ning's Art Career, will be held on April 27, 2022 from 1:20 to 3:10 pm in the Library conference room of National yang Ming Chiao Tung University. Conducted in Mandarin Chinese, the seminar's speakers include artist Tzeng Yong-ning, Richard MC Chang of Loftyart Gallery, and Lin Han-chun of the Yilan Museum of Art.
Installation View, NYCU Arts Center. Photo: Richard Chang
In Conversation
Tzeng Yong-ning
Artist Tzeng Yong-ning and Richard Chang of Loftyart Gallery spoke as guests with Associate Professor Cheng Chih-kuei of NTUA, on Jimmy Lu's ABCs of Art on IC Broadcasting FM97.5. Together, they covered Tzeng's artistic practice, his exclusive use of ball-point pens, as well as his upcoming show at NYCU Arts Center.
Professor Cheng Chih-kuei, Manager Richard Chang, and Artist Tzeng Yong-ning. Photo: IC Broadcasting
Honor
Tzeng Yong-ning
Cultural Minister Lee Yung-te and Executive Director Jordan Reeves were impressed by Tzeng's work, especially the strong use of colors and the incorporation of Taiwanese elements.
Gallery Director Liu, Executive Director Reeves, Artist Tzeng, Cultural Minister Lee, Manager R. Chang, & Art Director T. Chang. Photo: M. Kong
Museum Exhibition
Tzeng Yong-ning
On view on the main floor of Changhua County Art Museum is Glowing Nature – Tzeng Yong-ning Solo Exhibition, which marks the first large-scale show for artist Tzeng Yong-ning ins his home county. From January 25 to April 14, 2019 Tzeng Yong-ning's colorful ball-point pen works will light up the newly opened museum and be a highlight in the community.
Installation View, Changhua County Art Museum. Photo: Elaine Liu
Commission
Tzeng Yong-ning
In celebration of 2018 Louis Vuitton's 35th anniversary in Taiwan, local artist Tzeng Yong-ning was invited for a collaboration on a limited edition suitcase.
Louis Vuitton's classic travel suitcase painted by Tzeng Yong-ning © Louis Vuitton. Photo: Courtesy of Tzeng Yong-ning
Commission
Tzeng Yong-ning
Kung Fung Yung Tea, specializing in Taiwanese Teas since 1980, supports local artist Tzeng Yong-ning in a colorful collaboration.
Tea Caddy by Kung Fung Yung © Kung Fung Yung. Photo: Courtesy of Tzeng Yong-ning
---
Publications
Catalog
Tzeng Yong-ning Solo Exhibition
NYCU Arts Center, 2022
© NYCU
Catalog
Tzeng Yong-ning Solo Exhibition
Lofty Culture & Art, 2020
© Loftyart Gallery
Catalog
Tzeng Yong-ning Solo Exhibition
Lofty Culture & Art, 2019
© Loftyart Gallery