December 14 – 17, 2017
Hong Kong Convention Centre, Hall 5B, Booth C7
1 Expo Drive, Hong Kong
Pine smoke ink, famous throughout China, is a type of precious inkstick made from pine soot, or the deposition of smoke particles from burning pinewood. Xue Song, who is named after the great pines (song in Chinese) of Yellow Mountain, begins his collages by burning printed images, in which the ashes are collected and mixed into his paint; this artistic practice and synthetic medium can be regarded as a new Pine Smoke Ink.

Since the late 1990s, Xue Song has made extensive use of traditional Chinese calligraphy and painting, either as ready-made images for his burnt collage, or as classical themes to be reinvented in a contemporary context. Although his practice is derived from Pop Art, it carries a profound sense of Chinese culture and the spirit of ink painting. The artistic practice of Pine, Smoke, Ink opens a new chapter in genre of Modern Ink.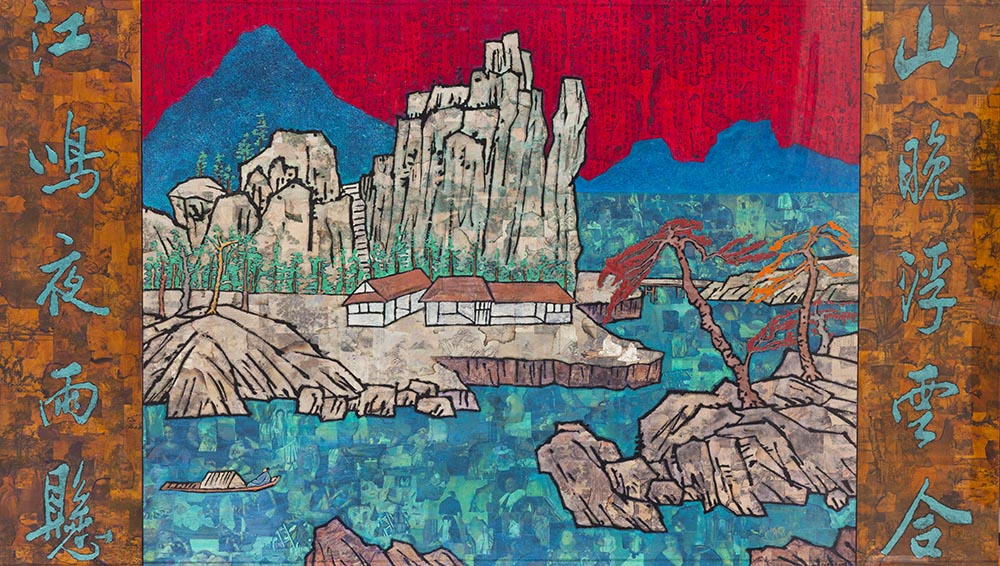 ---
News & Announcements
Honor
Xue Song
During the Ink Asia 2017 art fair, the Museum of Fine Arts, Boston made a decision to include Xue Song's painting, Spring Colors, 2013, as part of the Museum's permanent collection.
Timothy Chang, Art Director of Loftyart, with Nancy Berliner, Senior Curator of Chinese Art, MFA, Boston. Photo: R. Chang
---
Exhibition Catalog
Catalog
The Art of Xue Song
Lofty Culture & Art, 2017
© Loftyart Gallery
---
Related Fairs
Jan 19 – 21, 2019
Taipei Expo Park
Liu Kuo-sung, August on the Silk Road, 1968 (Detail) © The Liu Kuo-sung Archives
Dec 16 – 18, 2016
Hong Kong Convention Centre
Liu Kuo-sung High Noon, 2015 © The Liu Kuo-sung Archives