Eight Views of Taiwan
by Richard MC Chang (Translation by Timothy Chang)
Xue Song, who has secured his place in Chinese contemporary art with his method of burnt collage and Pop Art-inspired colours, has also captured the attention of international audiences. His works appear both traditional and modern, perfectly blending Chinese and Western visual styles. To international audiences, his images possess a quintessential Eastern aesthetic, and for all modern viewers, they evoke a strong sense of familiar nostalgia. In particular, his New Landscapes series are directly inspired by traditional Chinese landscape painting; however, he cleverly replaces calligraphic brushwork with readymade collage clippings, and ink and wash with ash and acrylic paint, thereby entirely transcending the beloved classical genre.
In 2014, Shanghai-based Xue Song was invited to Taiwan by Loftyart Gallery for a curated project titled Eight Views of Taiwan, in which Xue created a series of landscapes based real-life scenery in Taiwan, rather than his usual practice of selecting scenes from traditional ink paintings. Following the immediate success of Eight Views of Taiwan, the project expanded to Eight Views of Macau and Shanghai Postcards, repeating formula of traveling to a selected location, collecting materials for his collage on location, and creating a miniature series based on his experience, as well as the history and visual culture of the locale.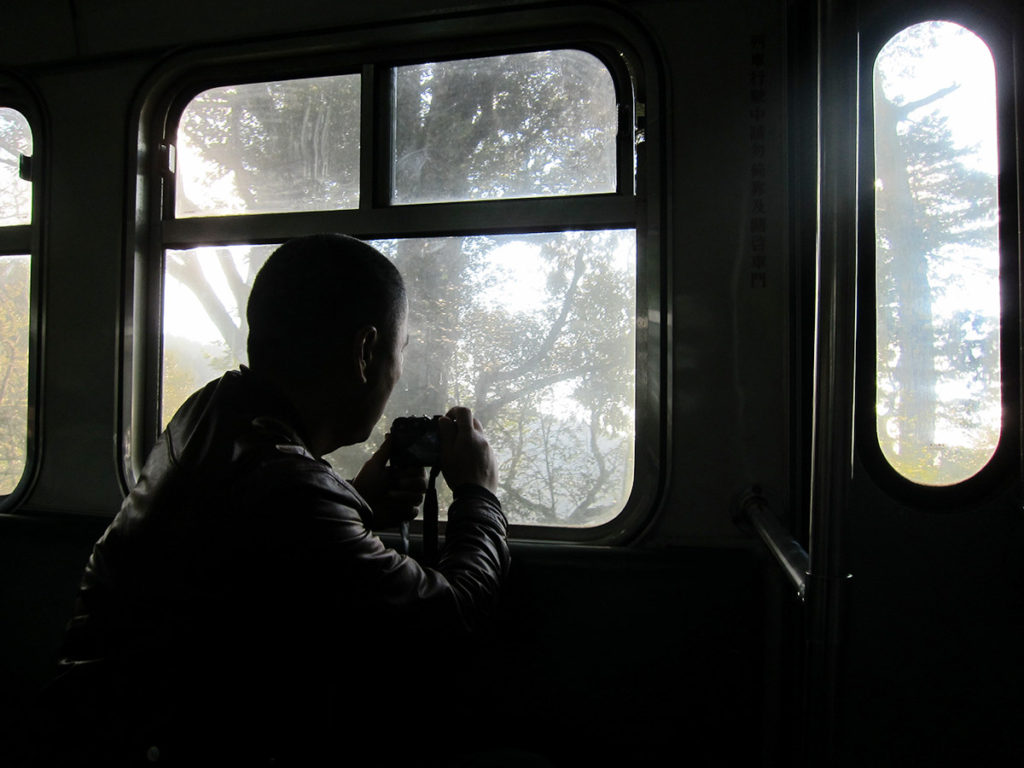 Mount Ali was created as one of the Eight Views of Taiwan upon the artist's return to Shanghai. The imagery of bright red and pink cherry blossoms alludes to the mountain's history during the Japanese colonial period (1895 – 1945). The black contours of the train engine were created by a mixture of acrylic paint and ash from burning collage clippings. As for the railroad cars, pictures of Chinese calligraphy adorn their facades, thereby symbolizing the transmission of the written word and civilization more broadly. This mixture of Japanese and Chinese elements strongly reflects Taiwan's diverse and multicultural history.
As the mixed-media collage of Mount Ali was instantly acquired upon its debut, Loftyart Gallery, working closely with Xue Song, produced a series of limited-edition silkscreen prints based on the popular image. Handcrafted locally by a leading printmaking studio in Taiwan, the production was a laborious process of splitting the image into individual screens, creating and mixing each paint colour, and carefully layering a high number of runs. Printed on premiere Fabriano pure cotton printmaking paper, the layered runs and rich colours faithfully reconstruct the Xue Song's original artwork.
During the printmaking process, in-depth research was conducted on Xue Song's oeuvre and personal style. His method of burnt collage and use of bright colours had to be accounted for in transposing these painterly elements into a printed image. Compositions were deconstructed into simpler components, each assigned to individual screens, and then reconstructed in layers on the printing press. Finally, to meet with the demands of Xue Song's Pop Art-inspired colours, synthetic and natural pigments mixed into the custom-made paint, giving the printed colours different lustres and tones when viewed from different angles or lighting.
---
Relatred Journals
Essay
Xue Song's Role as an Artist in Contemporary Culture
As a Chinese Contemporary artist, the challenge of Western art has undeniably shaped Xue Song's practice. Consciously working within this premise, he addresses his own identity and confronts the complex history that has shaped him and the fast-changing society in which he is a part of. In this way, Xue Song's evaluation of himself as an artist ultimately corresponds to the value of his art.
Xue Song in his Studio, Shanghai, 2017. Photo: T. Chang