Opening
Hung Yi
Founded over twenty years ago by Taiwan's Chin Pao San Group, Yuzi Paradise is the first modern sculpture park in China. Since its founding, the sculpture park has hosted eleven international sculpture symposiums and eight international painting symposiums. The park houses over two hundred large-scale outdoor sculptures by artists from more than fifty countries, including the Chinese sculptor Sui Jianguo, and Taiwanese sculptor Ju Ming, as well as a large collection of Modern and Contemporary paintings by international artists.

In recent years, Yuzi Paradise has teamed up with Club Med in combining international tourism with the Park's distinctive Guilin landscape and large art collection. The resort now attracts tens of thousands of tourists each year, and provides a wide range of activities for the whole family.

Cao Kuang-chan, Chairman of Yuzi Paradise, and Richard MC Chang, General Manager of Loftyart Gallery, who is also the Media Director of Yuzi Paradise, has invited Taiwanese artist Hung Yi to the sculpture park. Setting up a studio and gallery inside the park, Hung Yi Art Center in Yuzi Paradise covers over 3,000 square meters, and is the largest studio space in China for a single artist. Opening on December 27, 2016, the center will welcome tens of thousands of tourists from Club Med, and provide them the interesting and unique opportunity to see the creation of Hung Yi's art up close and personal.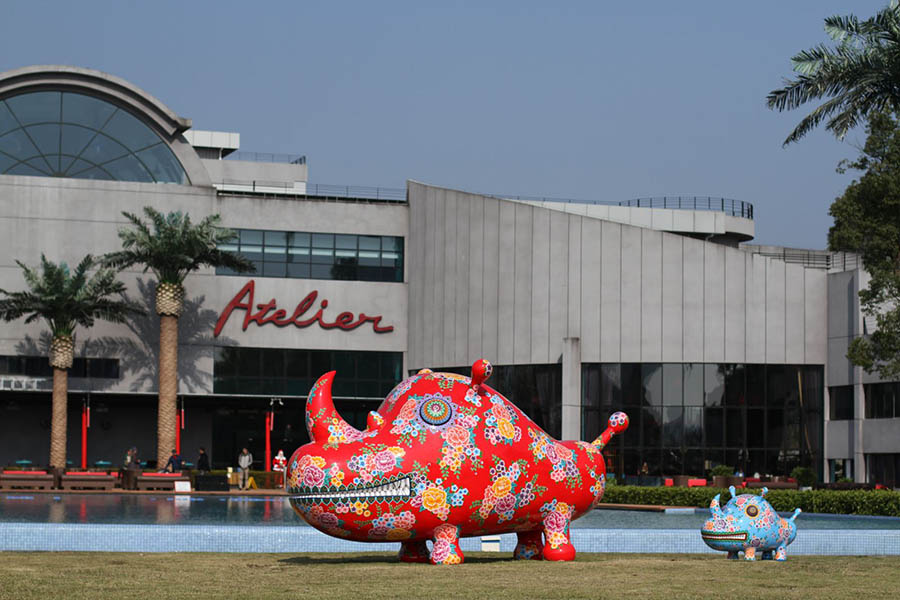 ---
Related News
Opening
Hung Yi
Let us welcome the Lunar New Year with Taiwanese sculpture Hung Yi's Blooming Fortune Art Garden at Lee Gardens (Hysan Place), Hong Kong. The colorful and auspicious exhibition runs from January 18 to February 15, 2022 and features the artist's signature animals.
Lee Gardens (Hysan Place), Hong Kong. Photo: Courtesy of Hung Yi Art Gallery
Opening
Hung Yi
Hung Yi Art Gallery, located on the cultural Changnan Road in Changhua County, officially opened February 21. The museum's post-modern mix and match architecture brings together an ensemble of materials and elements.
Hung Yi Art Gallery, Changhua, 2020. Photo: Courtesy of Hung Yi
Feature
Hung Yi
Deeply inspired by traditional Taiwanese folk art, sculptor Hung Yi's works are brightly colored and intricately decorated with traditional patterns and motifs symbolizing wealth and auspiciousness.
Artco China, March 2016 © ARTouch