by Elaine Suyu Liu (Translation by Timothy Chang)
What captivates the viewer's eyes in Lyse Lemieux's latest works is the apparent strangeness of the image. In Sans Titre (Jambes), a figure is comprised of six or seven leg-like appendages of various shapes and sizes. The top of the figure features a head in profile raised slightly towards the left, while a full face with squinted eyes protrudes jarringly to the right. Although the figure's anatomy is puzzling, the symbolism provides clear insight into the mind of the artist. Legs are to most organisms the primary means of locomotion. Yet, for this figure, the menagerie of different limbs appears cumbersome and hindering, like having two left feet. Furthermore, in the presence of the two separate heads, the differences in direction, facial expression, and colour strongly suggest not only each has a mind of its own, but also the minds are at odds with each other.
Lemieux's work often contains her anxiety, fatigue, and even ridicule of the many worrisome affairs of the world. Even so, humour and fun are always present, giving her works a charming and endearing quality. Despite having what most would consider an alarming number of legs, the figure in Sans Titre (Jambes) does not appear monstrous. Instead, the figure is adorned with lines, patterns, and shapes attractive to the viewer. The dabs of white paint are applied in a direct and genuine manner, creating a playful pattern. The simple yet effective use of swirling white dots on a yellow background is whimsical and energetic. In this way, the repetition of lines and patterns create a much-needed sense of reassurance and comfort, for not only the viewer upon viewing the work, but also for the artist during her meditative painting process.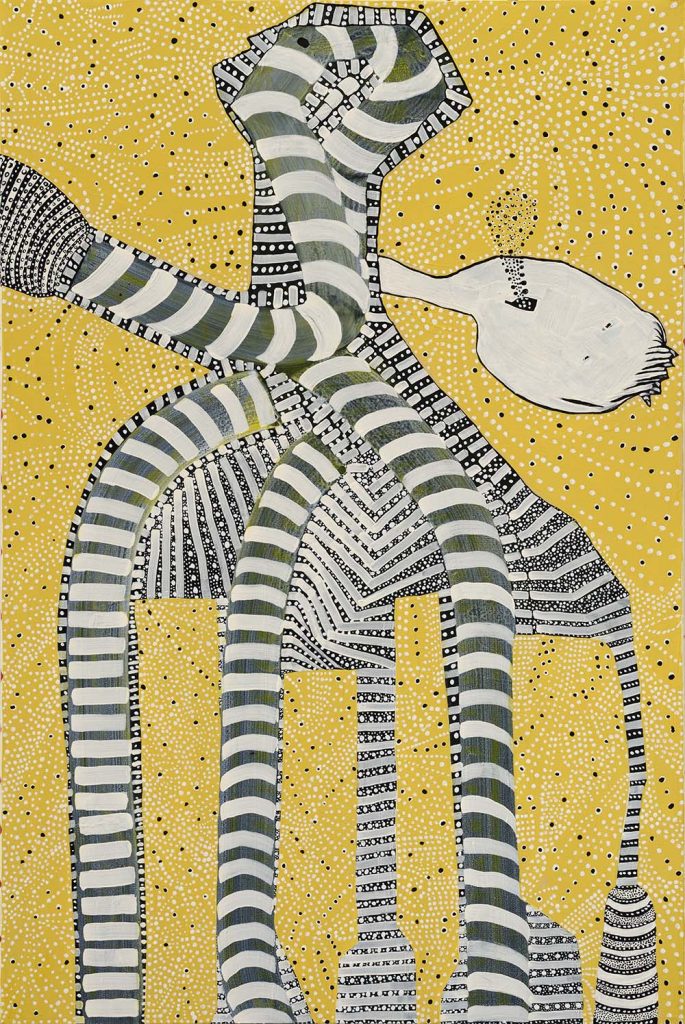 ---
Relatred Journals
Essay
A common theme in Lyse Lemieux's latest works is the presence of strange figures that bare loose resemblance to human beings. In both Hiatus and Tree Figures, the figures stand upright and appear to have bipedal appendages capable of walking. In Sans Titre (Jambes), although the number of appendages grows disproportionately high, the figure nonetheless bares human-like facial features, depicted clearly in profile view. Yet, in all three paintings, the figures are fundamentally non-human. Instead, they appear as fantastical beings akin to mythological creatures.
Lyse Lemieux, Hiatus, 2022 © Lyse Lemieux. Photo: Rachel Topham
Catalog Entry
Textiles is an on-going theme in the art of Vancouver-based artist Lyse Lemieux, encompassing her painting, sculpture, and installation. The practice of adorning ourselves in textiles is unique to us as human beings and shared globally across cultures. Similarly, clothing gives us a sense of identity and brings individuals together as a group. Yet, clothing is too often used to discriminate and set individuals or groups apart from the other.
Lyse Lemieux, White Gloves, Gants Blancs (detail), 2022 © Lyse Lemieux. Photo: Rachel Topham