by Elaine Suyu Liu (Translation by Timothy Chang)
Chen Pei-yi's painting Playing with Lotus is a work built on strict classical training that encompasses both traditional and modern aesthetics. The vase and flowers on the left pays homage to Giuseppe Castiglione's Gathering of Auspicious Signs of 1723, with variations such as the direction of rice stalks, the features on the vase, and the addition of the cat and textiles.
As the title suggests, the 18th century painting features several auspicious motifs; rice stalks symbolize successful harvests while lotus seed cups represent fertility. Castiglione, also known by his Chinese name Lang Shining, was an Italian Jesuit missionary trained in religious mural painting. Arriving in China in 1715, due to the imperial government's official ban on practicing foreign religions, Castiglione became a secular court painter instead and enjoyed an accomplished career of serving three distinguished emperors. His court paintings integrated elements from both Western and Chinese art, such as the Western techniques of shading and perspective with Chinese subject matters and calligraphic brushwork.
Chen Pei-yi received the celadon vase in her painting as a gift from a friend. The neck of the vase resembles bamboo and features archaic bronze-age patterns, and its decorative handles are composed of two elephant heads, which symbolize power and prestige similar to the auspicious meanings behind Castiglione's painting. Chen's decision to swap out the original vase from Castiglione's version with a gift from her own collection adds a personal dimension to the work. In terms of execution, the vase is exquisitely depicted. The celadon glaze appears radiant in colour, with fine tonal changes taken into full account. The rhombus pattern on the neck of the vase is painstakingly painted, while the decorative motif is further repeated throughout the textiles in the foreground. Alternating in a series of red, yellow, blue, and green, the woven pattern not only creates visual interest, but also a sense of depth.
Cats have always been the jewel in the crown in Chen Pei-yi's works. From the pose, to the ultra-fine representation of fur, to each individual feline's expression, every element is vivid and lifelike. In the painting, the visual function of the cat acts as a counterbalance by creating a sense of movement in an otherwise motionless still life, as well as adds an aura of playfulness; a notion reiterated in the title Playing with Lotus. As the cat engages in play exceedingly close to the delicate vase and beautiful flowers, the viewer cannot help but wonder if the floral arrangement will fall victim to the cat's playful nature. In this way, the artist draws the viewer into the narrative of the painting.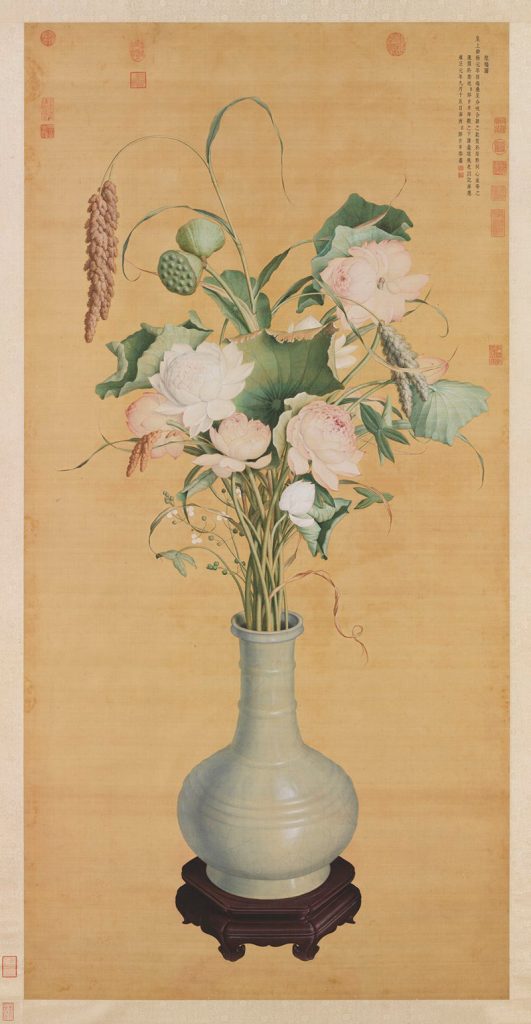 ---
Relatred Journals
Catalog Entry
Rain on plantain leaves is a beloved Chinese cultural motif. Volumes of poetry celebrate the imagery, such as Ouyang Xiu's vivid and slightly melancholy verse "The long courtyard captures the twilight, Spells and spells of rain on plantain leaves." It is also a favourite in literature, as seen in Ming Dynasty painter Shen Zhou's short prose "Listening to Plantain," in which Shen writes "Plantains are still; rain is moving. Movement and stillness come together to become sound. This sound and the ears are compatible."
Chen Pei-yi, Fresh Greens (detail), 2022 © Chen Pei-yi